Nursing Degree Apprenticeships Overview
In order to work as a nurse you need to get a degree in nursing, but with a nursing degree apprenticeship, you can achieve this at the same time as on the job work experience and you will also graduate debt free and gain full Registered Nurse status on completion.
With the removal of nursing bursaries to help aspiring nurses manage the costs of their degree, the number of applications for nursing degrees has plummeted, but the degree apprenticeship route in to nursing provides a very attractive alternative to a career in nursing.
Working as a registered nurse means working with a variety of service users, families and carers, and with a range of health and care professionals and other agencies. You might be working in: a hospital, someone's home, the community, social care or public health. Specialisms you could opt for include adult nursing, children's nursing, mental health and learning disabilities.
Registered nurses are a key part of the wider teams that meet the health and care needs of patients and service users.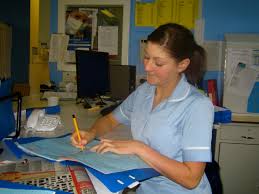 Skills you will learn as part of your Registered Nurse Degree Apprenticeship
You will learn a set of core skills which are relevant to all specialisms, plus specific skills depending on which area you choose to focus.
The core skills include:
Leadership Management and team working
• Be professionally accountable and use clinical governance processes to maintain and improve nursing practice and standards of healthcare.
• Respond autonomously and confidently to planned and uncertain situations, managing yourself and others effectively
• Create and maximise opportunities to improve services and demonstrate the potential to develop further management and leadership skills
Professional Values
• Act first and foremost to care for and safeguard the public.
• Practice autonomously within your scope of practice and be responsible and accountable for safe, compassionate, person centered, evidence based nursing that respects and maintains human rights.
• Show professionalism and integrity and work within recognised professional, ethical and legal frameworks.
• Work in partnership with other health and social care professionals and agencies, service users, their carers and families in all settings, including the community ensuring that decisions about care are shared
Nursing Practice and Decision making
• Practice autonomously, compassionately, skillfully and safely, and must maintain dignity and promote well being.
• Assess and meet the full range of essential physical and mental health needs of people of all ages
• Meet the more complex and coexisting needs of people in any setting
• Make shared decisions with service users
Communication & Interpersonal Skills
• Communicate in a safe, effective, compassionate and respectful way
• Communicate effectively using a wide range of strategies and interventions
• Work with service users and others to obtain information needed to make reasonable adjustments that promote optimum health and enable equal access to services
What types of jobs will a Nursing Degree Apprenticeship qualify me to do?
On completion of the apprenticeship you will meet the qualification requirements to apply for registration with the Nursing and Midwifery Council.
Why choose a nursing degree apprenticeship over a nursing degree?
Nursing degrees at universities are different from a more academic, less vocational type of degree. Students on nursing degrees generally spend at least 50% of their time in a practical setting such as a hospital to achieve the required number of clinical hours to qualify for registered nurse status. On the nursing degree apprenticeship, you typically spend 80% of your time in a hospital setting and the rest at university studying on a part time basis, so the work/study balance is not hugely different. The apprenticeship takes 4 years, so it does take longer to qualify but you will graduate debt free.
What Qualifications will I have at the end of the Degree Apprenticeship?
A degree in Nursing
Which Universities offer Nursing Degree Apprenticeships?
When you apply for a degree apprenticeship, you apply direct to the employer, in this case the NHS and they will place you at the university they partner with, depending o where you are employed. However, here is a list of universities currently offering Nursing degree apprenticeships, but this list will change as more come on board.
Plymouth
UEL
Open University
Northumbria
UWL
Wolverhampton
Solent
Essex
Derby
Cumbria
Where can I find vacancies?
To search for opportunities, visit our list of Degree Apprenticeships Vacancies.