This degree apprenticeship in Electronic Systems Engineering will prepare you to work in a wide range of sectors, applying your knowledge of electronics and embedded software to the design of circuits or devices that provide a useful function and are capable of being manufactured at a competitive cost, are reliable and safe in use.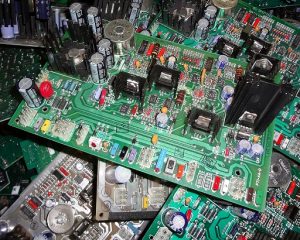 The engineer applies their knowledge of electronics to the end use of the particular product being manufactured. Industry sectors that have requirements for Electronic Systems Engineers include Aerospace, Automotive, Automation and Instrumentation, Robotics, Telecommunications, Information and Computer Technology, Defence, Energy (including renewables), Transport and Consumer Electronics.
Apprentices will complete a Degree that will support the fundamental scientific and mathematical principles that equip them with the understanding required to operate effectively and efficiently at a high level within any of these sectors.
Skills you will learn on your degree apprenticeship in Electronic Systems Engineering
Electrical circuit theory – Understanding of basic electrical theory
Electronic components – Knowledge of the method of operation of basic semiconductors and passive components including their most common uses. Also the basic formulas used in their application
Analogue and digital design techniques – Understanding of design of both analogue and digital circuits and the basic design rules for mixed analogue and digital circuit boards
Structured software – Comprehension of the fundamentals of structured software design
Company Specifics – Understanding key aspects of the employer's business and product applications – against a template to be generated by the employer
Circuit design- Design functional electronic systems and circuits from component level
Circuit layout – Utilise modern CAD technology to implement circuit design with understanding of considerations for heat dissipation, electrical interference and other industry specific considerations affecting layout
Structured programming for embedded software – Write and document structured code to comply with industry norms and to allow others to understand and subsequently maintain/modify the code
Mathematical modelling – Utilise modelling techniques for circuit design, embedded software development and thermal management
Design for purpose – Ability to demonstrate an understanding of the principles and practice of design for market, design for manufacturability, design for testability and design for maintainability
Testing methodology – Ability to develop a test plan for a product that they have developed
Product transition into production – Ability to explain the process by which a product is introduced into production, including what aspects are discussed at what stage and with whom and how development gateways work
Project Management – Ability to develop a basic project plan including resource planning, time planning, use of contingencies etc. Also techniques for predicting pinch points and strategies for timescale recovery
Compliance Awareness of international standards and compliance requirements for the products designed by the employer. Ability to discuss the differences between legislative and non-legislative requirements
Commercial awareness – Ability to demonstrate knowledge of basic business fundamentals including costs, overheads, gross margin, net margin, profit, and cash
Health and Safety Ability to demonstrate awareness and understanding of basic health and safety principles both in the general workplace and specific to electronic circuit design
What Qualifications will I have at the end of my Degree Apprenticeship in Electronic Systems Engineering?
Apprentices will finish with a degree accredited by the Institute of Engineering and Technology (IET) in Electronics or Electrical & Electronic Engineering. Completion of the apprenticeship will also make you eligible for professional registration with the IET.
What types of jobs will this Degree Apprenticeship in Electronic Systems Engieering qualify me to do?
Degree Apprentices will be qualified to later specialise as a Hardware Engineer, Software engineer or Systems Engineer and can extend from design of integrated circuits through to complete systems.
For others, an initial grounding in design and development will prove an excellent launch pad for a career in applications engineering, product management, marketing or general management.
Where can I find vacancies?
To search for opportunities, visit our list of Degree Apprenticeships Vacancies.