Overview
Control/Technical support engineers typically assist with the smooth running of manufacturing activity often having to solve complex problems in a fast paced technical environment. You will learn how to diagnose problems as well as the necessary technical skills to find and implement solutions.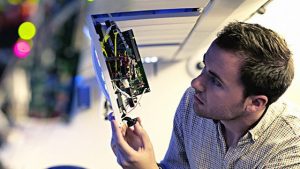 Skills you will learn as part of your Control/Technical Support Engineering Degree Apprenticeship
Initially you will be taught the core mechatronics engineering skills which will equip you for the workplace.
After this you will learn to hone your general engineering skills, along with, maintenance and manufacturing principles and their applications in industry, investigation and interrogation skills for software applications. With all of these skills, you will be using a logical and systematic approach.
Your apprenticeship will also teach you analytical, mathematic and scientific methods for engineers; project design; instrumentation and control principles; pneumatics and hydraulics; health, safety and risk assessment in engineering; industrial control systems; materials and manufacturing processes; and engineering project management.
Once you have all the skills necessary you will progress on to leading complex support activities, carrying out testing and maintenance.
What types of jobs will this Degree Apprenticeship qualify me to do?
Typically Control/Technical Support engineers work in the automotive industry.
What Qualifications will I have at the end of the Degree Apprenticeship?
At the end of your degree apprenticeship you will have a BSc (Hons) or BEng(Hons) in Engineering.
Where can I find vacancies?
To search for opportunities, visit our list of Degree Apprenticeships Vacancies.