This Engineering Degree Apprenticeship is a perfect option for you if you're fascinated by aircraft, spacecraft and related technologies.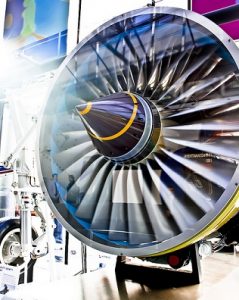 Aerospace engineers develop new technologies for use in commercial aviation, defence systems, and space exploration. As a Degree Apprentice in Aerospace Engineering you will learn about aerodynamics, structures, propulsion, systems, flight dynamics, mechanical engineering and computer-aided design. And you'll apply this to analyse and design flying vehicles.
Aerospace Engineers must be able to use and interpret engineering data and documentation such as engineering drawings, reports and computer generated models. They will be expected to work both individually and as part of an Engineering team, often comprising several different Engineering disciplines. They will be expected to design, develop, specify, analyse, test, validate and modify designs and solutions to satisfy Customer requirements.
Skills you will learn as part of your Degree Apprenticeship in Aerospace Engineering
Engineering process & practices covering: mechanical/electrical/electronic systems design, design and stress analysis eg computer aided engineering techniques, systems design, integration & test, in-service and through product life support, advanced manufacturing, aerospace quality and governance.
Relevant regulations and quality requirements
Analytical methods (engineering mathematics – algebra, differentiation, function, geometry, trigonometry, statistics)
Aeronautical Sciences – stress, strain, static and dynamic systems, motion, force, electrical power and resistance, mass and weight
Material Sciences – selection and application, structures, properties and analytical testing
Show that you are able to comply with statutory, organisational, environmental, health and safety regulations
Apply business improvement techniques ensuring optimisation of processes, resources and budgets
Develop a wide range of technical skill sets that can be applied in a range of aerospace disciplines and contexts that could include research, development, design, procurement, logistics, planning, production, quality assurance, inspection, testing, installation, commissioning, maintenance, life cycle management, decommissioning and environmental compliance.
What types of jobs will this Degree Apprenticeship qualify me to do?
When you graduate and complete your Degree Apprenticeship you might be employed in roles such as Flight Systems Engineer, Mission Systems Engineer or Systems Integration Engineer.
What Qualifications will I have at the end of the Degree Apprenticeship?
BEng with Hons Aerospace Engineering (Manufacturing) and Incorporated Engineer status
Where can I find vacancies?
To search for opportunities, visit our list of Degree Apprenticeships Vacancies.