The role of a Laboratory Scientists involves carrying out a range of technical and scientific activities which may include laboratory based investigations and scientific experimentation in their specialist field.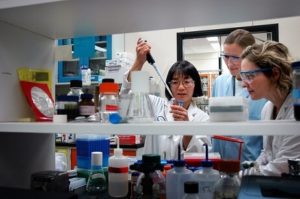 Laboratory Scientists will analyse, interpret and evaluate relevant scientific information, concepts and ideas and use these to develop subsequent experiments or investigations and to propose solutions to problems. They will be able to apply knowledge of underlying scientific principles to implement new processes according to the literature or input from senior team members. They will be able to work autonomously and part of a wider scientific team, taking responsibility for the quality of the work that is undertaken, to deliver scientific value to their organisation. They will be proactive in finding solutions to problems, be able to identify areas of business improvement and propose innovative scientific ideas. In all contexts working safely and ethically is paramount and many companies operate under highly regulated conditions because of the need to control the quality and safety, for example medicines.
Skills you will learn on your degree apprenticeship in Laboratory Science
Apply knowledge of underlying scientific principles in laboratory based experimentation and implement new processes according to the literature or input from colleagues.
Demonstrate and explain the principles of laboratory techniques and scientific experimentation to contribute to the development of specific technical projects.
Develop and apply a theoretical knowledge of the advanced science and technology required to progress in the job role and relevant area of specialism.
Demonstrate working knowledge of project management procedures and the ability to incorporate these into the scientific work environment working with team members.
Understand the internal and external regulatory environment pertinent to the sector and the sponsoring organisation and comply with regulations including compliance with business rules pertaining to record keeping, traceability & confidentiality.
Understand the business environment in which the company operates including personal role within the organisation, ethical practice and codes of conduct.
Identify and understand the requirements of internal or external customers and recommend the appropriate workflows, improvements or scientific solutions.
Prepare for and perform laboratory tasks using the appropriate scientific techniques, procedures and methods of relevance to the activities of the laboratory.
Work safely within a laboratory environment, maintaining excellent housekeeping whilst following appropriate safety, environment and risk management systems.
Promote and ensure the application of quality standards relevant to the workplace.
Work autonomously to analyse, interpret and evaluate scientific data and present the results of laboratory work and problem solving clearly and concisely in written and oral form.
Lead continuous performance improvement within the scientific and technical environment.
Use creative thinking and problem solving to challenge assumptions, innovate, make new proposals and build on existing ideas.
Plan and prioritise tasks, review and evaluate progress against objectives and investigate alternative scenarios.
What types of jobs will this Degree Apprenticeship in Laboratory Science qualify me to do?
Typical roles for Laboratory Scientists include Analytical Chemist, Research & Development Scientist, Molecular Biologist, Microbiologist, Formulation Scientist, Medicinal Chemist, Process Technologist, Biotechnologist.
What Qualifications will I have at the end of my Degree Apprenticeship in Laboratory Science?
On completion, apprentices will hold an honours degree in a science or technology discipline relevant to their job role. (ie Chemistry).
The apprenticeship is recognised by the relevant professional bodies at Registered Scientist (RSci) level, for which there is a requirement that the scientist will participate in subsequent continuing professional development on completion of the apprenticeship.
Where can I find vacancies?
To search for opportunities, visit our list of Degree Apprenticeships Vacancies.