These IT Degree Apprenticeships will train you to provide technology enabled solutions to internal and/or external customers, in a range of areas including software, business and systems analysis,   cyber security, data analysis and network infrastructure. They implement technology solutions that enable businesses to develop new products and services and to increase an organisation's productivity using digital technologies. They are confident, competent and capable independent Technology Solutions Professionals able to operate in a range of related roles.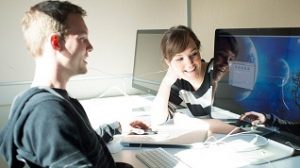 The Skills you will learn on your Degree Apprenticeship in Digital Technology Solutions
Information Systems: you will learn how to critically analyse a business domain in order to identify the role of information systems, highlight issues and identify opportunities for improvement through evaluating information systems in relation to their intended purpose and effectiveness.
Systems Development: the analysis of business and technical requirements to select and specify appropriate technology solutions. This encompasses the design, implementation, testing, and debugging software to meet requirements using contemporary methods including agile development. You will also learn how to manage the development and assurance of software artefacts applying secure development practices to ensure system resilience. Configure and deploy solutions to end users.
Data: identifying organisational information requirements and model data solutions using conceptual data modelling techniques. Implement a database solution using an industry standard database management system (DBMS). Perform database administration tasks and understand the key concepts of data quality and data security. Manage data effectively and undertake data analysis.
Cyber Security: Undertake a security risk assessment for a simple IT system and propose resolution advice. Identify, analyse and evaluate security threats and hazards to planned and installed information systems or services (e.g. Cloud services).
Business Organisation: the application of organisational theory, change management, marketing, strategic practice, human resource management and IT service management to technology solutions development. You will learn to develop well-reasoned investment proposals and provide business insights.
IT Project Management: follow a systematic methodology for initiating, planning, executing, controlling, and closing technology solutions projects. Apply industry standard processes, methods, techniques and tools to execute projects. Manage a project (typically less than six months, no inter-dependency with other projects and no strategic impact) including identifying and resolving deviations and the management of problems and escalation processes.
Computer and Network Infrastructure: Plan, design and manage computer networks with an overall focus on the services and capabilities that network infrastructure solutions enable in an organisational context. Identify network security risks and their resolution.
What Qualifications will I have at the end of my Degree Apprenticeship in Digital & Technology solutions?
Degree Apprentices will graduate with a BSc (Hons) in Digital & Technology Solutions
What types of jobs will this Degree Apprenticeship in Digital & Technology solutions qualify me to do?
The roles this degree apprenticeship could lead to are Software Developer, Software Engineer, Software Tester, Application Specialist, Business Analyst, IT project Manager, IT Consultant, Network Engineer, Cyber Security Analyst, Database Specialist, Data Analyst, Digital Media Technology Practitioner, Systems Designer
Where can I find vacancies?
To search for opportunities, visit our list of Degree Apprenticeships Vacancies.