Overview
Healthcare Science Practitioners (HCSPs) use expertise in applied scientific techniques to deliver patient sensitive and quality assured tests, investigations and procedures (in some cases, including specialist therapeutic interventions) on samples, patients and equipment. HCSPs are responsible for the analysis of a wide range of diagnostic tests that contribute to the clinical assessment of patients for the presence of disease, the monitoring of health and the effectiveness of treatments.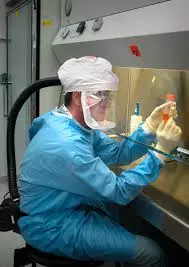 Skills you will learn as part of your Healthcare Science Practitioner Degree Apprenticeship Degree Apprenticeship
Person centred Care and Professional Practice: prevent discriminatory practice against patients/carers/colleagues ensuring that the highest standards of person-centred care are practiced so that each person is treated with dignity and respect.
Health, Safety and Security: legislation/policies/regulations relating to health and safety at work and your responsibilities. Risk assessment methodologies, including strategies for dissemination of the findings, and approaches to implementing the changes required.
Quality: quality management/improvement processes within the regulatory environment. Analysis, interpretation and communication of audit findings to promote quality.
Technical Scientific Services: Analysis, interpretation and explanation of technical results to other professionals and patients. Maintenance and management of technical equipment.
Clinical Care: ensure that responsibilities for safeguarding and protecting patient confidentiality, including record keeping, are met; how to manage safeguarding and duty of care to patients.
Audit/Service Improvement: how to improve the services provided
Research and Innovation: to support quality care improvements/innovation in your area of work
What types of jobs will this Degree Apprenticeship qualify me to do?
HCSPs work in a range of different settings including hospitals, primary care, public health, and private sector hospitals.
What Qualifications will I have at the end of the Degree Apprenticeship?
BSc (Honours) degree in healthcare science. On completion of the programme, all apprentices will also be eligible for registration on the Academy for HCS accredited register (which is the HCS register recognised and supported by Health Education England [HEE]).
Where can I find vacancies?
To search for opportunities, visit our list of Degree Apprenticeships Vacancies.