This Degree Apprenticeship in Automotive Engineering trains Engineers to support the activities involved in bringing automotive designs into manufacture. This role is pivotal to the smooth delivery of both launching new products and enhancing existing products.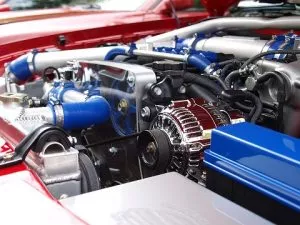 The focus is on the advanced manufacturing techniques and project management skills required to launch products on time, on cost and to the right quality. Typically Manufacturing Engineers work closely with a range of other engineers, functions and managers both within their own company and supplier base.
Skills you will learn on your Degree Apprenticeship in Automotive Engineering
Complying with statutory regulations and stringent organisational safety requirements.
Producing components using hand fitting, fabrication and joining techniques.
Producing Computer Aided Design (CAD) models (drawings) using a CAD system.
Preparing and using lathes, milling and other general or specialist machines and high tech equipment.
Preparing and proving Computer Numeric Control programmes.
Using computer software packages to assist with and evaluate engineering activities • Producing and managing engineering project plans.
Producing assemblies using a wide range of materials and techniques.
Project management and scheduling engineering activities.
Securing appropriate resources and managing budgets and resources.
Implementing, monitoring and evaluating engineering processes
Mathematics and science for engineers.
Materials and manufacture.
3D Computer Aided Design and Computer Aided Engineering.
How to run and manage business led projects.
Engineering operations and business management.
Manufacturing processes.
Product improvement and engineering project management.
In this Degree Apprenticeship, there will be two phases of training.
The foundation Phase: intensive off the job training focused on developing the degree apprentice's core skills, knowledge and behaviour, allowing them to work effectively with supervision in a largely simulated working environment. This stage will require typically 1400 Vocational Guided Learning Hours, building up from basics to more complex engineering operations and practices. As part of this phase the apprentice would be studying for an HND or Foundation Degree.
The development Phase: applying the apprentice's on-job vocational competence supported by further guided learning, enabling them to eventually work effectively without the need for close supervision. The competencies gained are sufficiently transferable by the end of this development phase for someone to adapt quickly to function effectively after minimal instruction on new equipment / environments or revised working practices.
What types of jobs will this Degree Apprenticeship qualify me to do?
Manufacturing Engineer
What Qualifications will I have at the end of this Degree Apprenticeship?
You will qualify with a BSc degree in Engineering.
The programme has been designed to meet the professional standards of the Engineering Council for initial registration as an Engineering Technician.
Where can I find vacancies?
To search for opportunities, visit our list of Degree Apprenticeships Vacancies.