What Science Degree apprenticeships are available?
Science Degree Apprenticeships are very different from studying a science at university. Studying a pure science at university, such as Physics, Chemistry, Biology or Maths is usually an academic route, which could lead to a variety of different careers, sometimes related and sometimes not. A Science Degree apprenticeship however, will lead you to a very specific career path and will be designed to provide you with the necessary scientific knowledge and practical experience to fulfil your chosen career.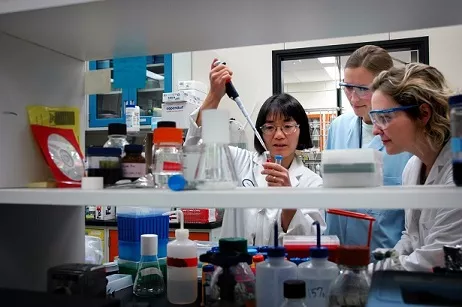 Choosing a science degree apprenticeship therefore, is a choice to focus on a specific scientific career, which if you know what you want to do, can be a great way to qualify and graduate debt free.
There are many different types of scientific degree apprenticeships, but they can be broadly categorised as follows:
Technology Degree Apprenticeships
Healthcare Degree Apprenticeships
Science & Maths Degree Apprenticeships
Science Degree Apprenticeships currently available
New degree apprenticeships are being created all the time, so if you don't see what you are looking for here, you should keep an eye out for new opportunities on our degree apprenticeships vacancies page.
Clinical Trials Specialist Degree Apprenticeships
Clinical trials are the process involved in testing new treatments on humans. As a CTS apprentice, you will be involved in the delivery and execution of these trials whilst working towards your BSc in a Biological Science, such as Physiology, Anatomy, Pharmacology, Biochemistry or Pharmacy. Clinical Trials Specialists work either in Public or Private Healthcare settings or in the Pharmaceutical industry.
Laboratory Scientist Degree Apprenticeships
The role of a Laboratory Scientist involves carrying out a range of technical and scientific activities which may include laboratory based investigations and scientific experimentation in their specialist field. Laboratory Scientists can work in a range of scientific industries including but not limited to Biotechnology, Pharmaceutical, Chemical and Nuclear. Find out more abut this apprenticeship.
Advanced Clinical Practitioner Degree Apprenticeship
This is a 2 year Masters level Degree Apprenticeship aimed at experienced UK registered healthcare professionals, with a minimum of 3 years post qualification professional practice and an advanced clinical focus to their role.
This apprenticeship aims to develop your clinical skills and knowledge to an advanced level. empowering you to practice with autonomy in your scope of practice and manage complexity in both decision making and clinical presentations. You need to be in full time employment.
Nuclear Technician, Scientist or Engineer Degree Apprenticeship
The Nuclear Scientist or Nuclear Engineer degree apprenticeship provides you with the knowledge and training to work professionally within the nuclear sector. On completion of the apprenticeships, a Nuclear Scientist and Nuclear Engineer Degree Apprentice will be able to use the knowledge, skills and behaviours learned to enable systems and equipment to operate safely, efficiently and in an environmentally sustainable way, meeting all industry requirements. Find out more about this degree apprenticeship.