We have put together a checklist of the essentials that students will need to take with to university. The exact list will vary depending whether you are self-catering or catered and in halls or not. Check first with your halls what will be provided for you before going out and spending loads of money on things you won't need.
And before you start shopping, why not sign up to our fundraising scheme Funds4Uni. You could earn free donations from the retailers on your purchases which will go towards your university costs.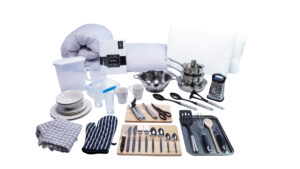 Check List of student essentials
Bedroom
•Duvet
•Duvet covers
•Sheets
•Mattress protector
•Pillows & pillow cases
•Blackout blind
•Storage boxes
Bathroom
•Bath towels
•Hand towels
•Toilet brush
Kitchen
•Saucepans and frying pan
•Kitchen knives
•Chopping board
•Colander/sieve
•Grater
•Potato peeler
•Spatula/masher/slotted spoon
•Measuring jug
•Weighing scales
•Bowl
•Wooden spoon
•Baking tray
•Oven proof dishes
•Can opener
•Bottle opener
•Cutlery
•Plates and bowls
•Mugs and glasses
•Storage containers
•Cling film
•Aluminium foil
•Tea towels/oven gloves
•Clothes horse
•Dish cloths
Stationery
•Paper
•Pens
•Hole punch
•Stapler
•Glue and Sellotape
•Files
•Blue tack
Computer Equipment
•Laptop
•Memory stick
•Laptop cover/bag
•Microsoft Office
First Aid Kit
•Plasters
•Pain killers
•Cold & flu remedies
•Anti histamine
•Antiseptic cream
•Antiseptic wipes
Important Documents
• Passport (ID)
• Driver's Licence
• Correspondence from the University
• Student Loan documents
• National Insurance Number
• Bank Account details
• Insurance documents
Books – you will be given a list of books that you need, but don't rush out and buy them all. Read our guide on cheap books for university.
Insurance – check whether your accommodation includes student possessions insurance. If it doesn't you will need to buy your own.
Pre-packed student starter kits.
Unpacked – Student starter kitchen packs & Student bedding packs.
If you would love all your university bedding and kitchen essentials delivered to your new university home or your house before you leave in one easy package Unpacked have it all covered, they deliver across the UK and their student starter kits have been used by thousands of students. Use discount code: 'TSH19' for £10.00 off your order!
Curry's/PC World – computing and accessories
These student starter packs from PC World, contain all your computing needs for the new term in one place including Antivirus software, cloud storage, Microsoft Office, laptops and more.
And not a starter pack but also very useful
Student Shipping service – if you can't fit everything in the car, send it ahead with this home to uni service. A 5% discount will automatically be applied by following this link