Stuck on what to take to your first year of University? Look no further. We have put together a perfected university checklist of what you need for your student starter pack.
Now, we know what you're thinking…this article is just going to talk about fairy lights and artificial ivy garlands…these are cute, correct! But we're here to talk about the essentials, what you REALLY need to ensure you have a smooth start to your University experience in your new home.
Just one more thing before you start scrolling… why not sign up to our fundraising scheme Funds4Uni. You could earn free donations from the retailers on your purchases which will go towards your university costs….it's a win win!
Our "Back to Basics" Check List of student essentials
For Napping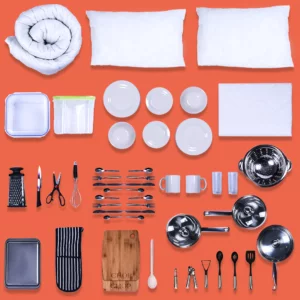 •Duvet
•Duvet covers
•Sheets
•Mattress protector
•Pillows & pillow cases
•Blackout blind
•Storage boxes
For washing
•Bath towels
•Hand towels
•Toilet brush
For Cooking (it may sound a lot…but trust us, you're going to need it!)
•Saucepans and frying pan
•Kitchen knives
•Chopping board
•Colander/sieve
•Grater
•Potato peeler
•Spatula/masher/slotted spoon
•Measuring jug
•Weighing scales
•Bowl
•Wooden spoon
•Baking tray
*take a few deep breaths*
•Oven proof dishes
•Can opener
•Bottle opener
•Cutlery
•Plates and bowls
•Mugs and glasses
•Storage containers
•Cling film
•Aluminium foil
•Tea towels/oven gloves
•Clothes horse
•Dish cloths
For studying (the important part)
•Paper
•Pens
•Hole punch
•Stapler
•Glue and Sellotape
•Files
•Blue tack
Top Tip – We also suggest not rushing out to buy your University list of books. Read our guide on cheap books for university.
Computer Equipment
•Laptop
•Memory stick
•Laptop cover/bag
•Microsoft Office
First Aid Kit
•Plasters
•Pain killers
•Cold & flu remedies
•Anti histamine
•Antiseptic cream
•Antiseptic wipes
Important Documents
• Passport (ID)
• Driver's License
• Correspondence from the University
• Student Loan documents
• National Insurance Number
• Bank Account details
• Insurance documents
Don't forget about the boring tasks that you're used to Mum and Dad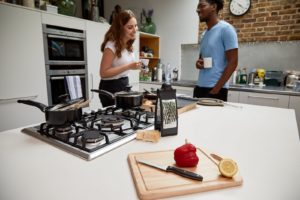 organising…like insurance. Check whether your accommodation includes student possessions insurance. If it doesn't, you will need to buy your own.
The next step is actually going out and sourcing all of these items. Sounds like it would take hours…maybe even days!? That's because it usually does.
WE HAVE THE ANSWER!
See our TOP 3 Pre-packed Student Essential Starter Kits Below
Unpacked – Luxury Student Essential kitchen, bedroom and All-In-One Packs.


Get all of your Kitchen and Bedroom essentials in one single pack, with scheduled guaranteed delivery to your front door or new University accommodation. Their packs not only look great but are high-quality too, with a wide range of different bedding options and

pans that are compatible with all hob types including induction

.


Use discount code: 'TSH19' for £10.00 off your order!
Curry's/PC World – Computing and Accessories


These student starter packs from PC World, contain all your computing needs for the new term in one place including Antivirus software, cloud storage, Microsoft Office, laptops and more.
Student Shipping service – Not a starter pack… but also very useful!


If you can't fit everything in the car, send it ahead with this home to uni service. A 5% discount will automatically be applied by following

this link