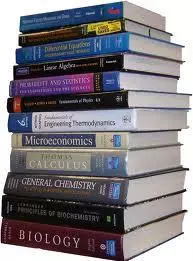 If you have been given a huge long reading list for your course and you're worried about the cost, where is the best place to buy your books and which ones should you buy?
The fact is that university textbooks are very expensive but many first years make the mistake of rushing out to buy all essential reading list in a fit of enthusiasm and it can end up costing hundreds of pounds.
When it comes to sourcing your university textbooks, there are several different options to consider, often very different in price. You may find that for some books you need to have your own hard copy and others you won't. Sometimes it is worth talking to second year students, if you can, who are doing your course and seeing what they recommend before you rush out and buy the whole list.
Here are some different options to consider
The Library
A fairly obvious one and you will often find that the main textbooks required for your course are always unavailable as everyone is after copies, but always worth a try first as it's free – unless you forget to take it back.
Textbook Rental
The main advantage of this is that it is not only cheaper overall to rent rather than buy, but you don't have the upfront costs of buying the books. The downside is that you have to give the books back and they will be second hand, but if you don't mind that, then this could be a good option for you. You do need to be organised though to make sure that you send the books back when they're due. Visit Alibris for more information.
Buy Secondhand
This has the advantage over renting that the books are yours to keep and you can often pick them up at greatly reduced prices compared to buying new. One of the best places to buy second hand books is Ebay but also some universities have spaces for second or third year students to advertise their second hand books, so check out if your university does this. If not, there are companies that trade in second hand textbooks, so not only can you buy them but you can also sell yours when you've finished with them and get some money back. Visit Abebooks for more information.
E-books
A new and growing possibility is that many academic textbooks are now being published as ebooks, saving huge amounts on printed textbooks. If you have the technology to use them, it is definitely worth checking if the books you need are available yet. If they aren't, keep checking each term as more and more are being published all the time. Visit ebooks.com for more information.
Buying them new
This is probably the most expensive option, but it does of course have its advantages. The book is yours to keep, you can make notes and marks on it. Some of the main bookshops such as Blackwells offer discounted prices of up to 50% off the rrp and special offers throughout the year also mean that you can pick up new books at reduced prices, so keep your eye on the ones you are after.
And don't forget to sell them once you've finshed with them. but We Buy Books has made it nice and easy. All you have to do is enter the ISBN, they will value your books for you, you print off a pre-paid postage label so you don't even have to go to the Post Office and they will pay you when they receive your package.