In August this year the government stopped the nursing bursaries which were offered to students studying for a Nursing Degree. This has led to a large drop in the number of applicants for nursing degrees with more than 1,200 fewer student nurses starting an undergraduate degree this year.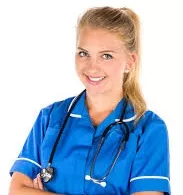 However, prospective nurses are now being offered an alternative way to train, which will not see them having to take out a student loan at all, and will lead to full Registered Nurse status on completion of their training.
Nursing degree apprenticeships
The nursing degree apprenticeships are designed to allow apprentices to complete a four year apprenticeship whilst working in the NHS, without have to study for a full time university degree. Apprentices will be paid while they learn and will qualify as a full degree-registered nurse but without the debt now associated with gaining a nursing degree.
This new degree apprenticeship has only just been approved and involves part time work and part time study at a university. So far, only two universities are offering this apprenticeship (The Open University and Anglia Ruskin), but more are due to come on board soon.
Vacancies will be advertised by the NHS for apprentice nurses.
Why choose a nursing degree apprenticeship over a nursing degree?
Nursing degrees at universities are different from a more academic, less vocational type of degree. Students on nursing degrees generally spend at least 50% of their time in a practical setting such as a hospital to achieve the required number of clinical hours to qualify for registered nurse status. Many people would still prefer to go for the traditional university degree experience and this takes 3 years of full time study. The down side is that you graduate with a debt of up £27,000 for tuition fees plus your living expenses.
On the nursing degree apprenticeship, you typically spend 80% of your time in a hospital setting and the rest at university studying on a part time basis, so the work/study balance is not hugely different. The apprenticeship takes 4 years, so it does take longer to qualify but you will graduate debt free.
Find out more about nursing degree apprenticeships
To search for current opportunities, visit our list of Degree Apprenticeships Vacancies.
.