Following Brexit, funding for international students now covers those from the EU, hoping to live and study in the UK as well as other countries worldwide. Therefore, it is essential for anyone living outside the UK to be aware of funding options and support available. 
It is important to note that this doesn't necessarily apply to existing EU students after Brexit. A government scheme, already in place, ensures these individuals can stay within the funding bracket they are currently in, if eligible.
Unfortunately, there is currently no cap on tuition fees for international students, like there is for UK students. The amount can vary significantly depending on the university and course you have chosen to study. For this reason, studying in the UK when you are not a resident can end up being rather costly.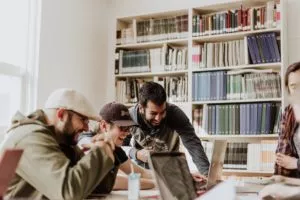 Whilst UK students only pay up to £9,250 per year, the cost of a degree for an international student can range from £10, 000 up to a huge £38, 000 or even more for medical degrees. Fees for humanities and social science degrees are often at the cheaper end of the scale, with medical and laboratory degrees costing much more. However, don't let this put you off. When it comes to funding for international students, there are a variety of options available so hopefully you can find one that best suits you and your personal situation.
Why study in the UK?
The UK is renowned for high quality education and world-class research facilities. As a multicultural country with great work opportunities, you can see why many international students choose to go to university here. Moving to another country can be a complicated process at any time, however, there is even more to consider when it comes to visa applications and funding for international students.
Funding options
It is crucial to do your research before making such a huge life decision. Ensuring you'll be eligible for the necessary means that will allow you to live comfortably when in the UK is vital. This should cover all costs from tuition to living. To secure a place on a UK course, you have to prove you have enough money in your bank account to cover a certain amount of the costs. It can be difficult to source funding for international students. There isn't a set student body in place to support these individuals financially. However, there is more general support for international students available. Institutions such as UKCISA who offer valuable help and advice on a wide range of matters.
There are a couple of different options to look into. Ensure you find the best fit before finalising your decision to study in the UK.
These include;
Family
65% of international students receive help from their family to fund their degree. If you're in a fortunate enough position for this to be the case, it is worth discussing. Research what the likely cost is going to be for your chosen course and university before doing so in order to avoid complications or lack of funding further down the line. 
Private Company
In some cases, large private companies may offer to pay for your study, in exchange for becoming an employee following graduation. This is common in industries such as finance so is definitely worth looking into as an option. 
Student Loan
There is currently no UK student body providing funding for international students. However, depending on your home country, you may be eligible for a student loan. Many universities or funding organisations offer financial support for those wanting to spend just a term abroad. There are also options for full-time study in another country. Different countries have different schemes in place. Be sure to look into what is on offer in your country when wanting to study in the UK.
Scholarships, Grants & Bursaries
Scholarships grants and bursaries are a common source of funding for international students. Funding is awarded to an individual for excellent academic achievements or support to unique personal circumstances. Reasons for these being granted can differ and each university has its own way of working. Many UK universities offer scholarships to encourage international students to study in the country or a particular city. Full funding or extra financial support goes a long way as an international student. Therefore, a scholarship is most definitely an option worth exploring. 
Student Exchange
Some universities have partnerships with other universities abroad. This entails 'swapping' students for a term or a year to allow them to experience international study. This is similar to Eramus, a past EU programme, which allowed students to exchange with participating countries most commonly for a term or an entire year. Since leaving the EU, this programme has come to an end in the UK. However, it will be replaced with the Turing Scheme. This will mean that this type of study can continue and UK and European/international students can experience study abroad.  
Banks
Many banks offer loans to students to support them whilst studying and living abroad. These tend to have low interest rates and can be a real help when it comes to funding for international students. It is worth looking into banks in your home country that may have some sort of student support scheme in place as this could be a stable option.
Alternatively, student accounts commonly offer interest-free overdraughts to help tide you over from time to time with living costs or rent. Be mindful that these shouldn't be solely relied on as a source of funding.
As many of these methods of funding for international students can be uncertain at times, it is recommended to explore all options and ensure you have a back-up plan if necessary. Many international students will also find a part time job whilst studying in order to fund living and additional costs. Also keep in mind the potential need to travel home during holidays or for personal reasons as this will need to be factored into your yearly budget.