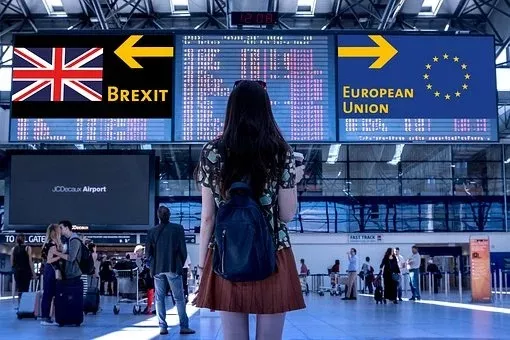 If you are an EU student studying in the UK or thinking of studying here after Brexit, you will doubtless have plenty of questions around how things such as funding for EU students after Brexit and visa requirements will work. The planned exit will change the entire operation of the country, especially our overseas connections. This is a huge concern for many and there is a lot of uncertainty surrounding the future, particularly for EU nationals and students in the UK..
Existing EU students at UK Universities
If you were already a student at a UK university before 31st December 2020 you can continue studying and living in this country if you are eligible for the EU Settlement Scheme (EUSS). The scheme allows citizens of the EU, Iceland, Liechtenstein, Norway and Switzerland to continue as they were – living, working or studying in the UK and still receive access to our services. The deadline to apply for this is 30th June 2021.
EU students who have started a UK university course at the beginning of the 2020/21 academic year are eligible for 'home fee status'. This means that they will have access to Student Finance England (SFE) and pay the same as students from the area that the university is based in. Your status at the start of your course will be valid until the end of your course. However, the same funding will not apply if you choose to defer.
New EU students after Brexit?
On the other hand, if you are arriving as an EU student after Brexit following 1st January 2021, you will need to apply for a student visa. The application costs £348 for students and you will need to provide your passport or another valid travel document. There will also be an Immigration Health Surcharge costing £470 for student visa holders which will grant you access to our NHS. Visa applications needs to be completed and accepted before your planned arrival in the UK.
EU students starting their course following Brexit, on or after 1st August 2021, will not be eligible for home fee status or funding from SFE. In the case that you are an EU student after Brexit and starting your course after 1st August 2021 and therefore not eligible for SFE funding, individual university boards are set to release alternative fees in due course. Keep updated with your chosen university in order to obtain this information.
Exceptions of this rule include;
EU students who are able to benefit from the citizens' rights agreement.
Irish citizens living in the UK or Republic of Ireland (Common Travel Area arrangement benefits for Irish citizens will continue).
To summarise: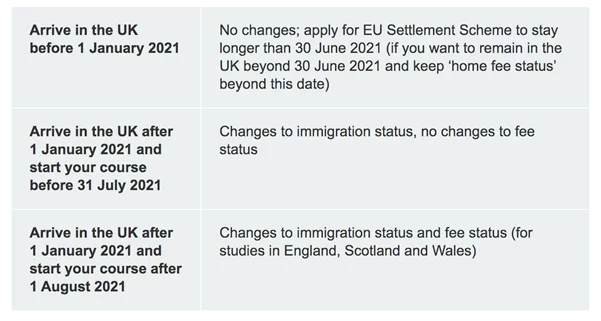 Alternative Funding for EU Students
Erasmus+ placements in the UK
Current 2014-2020 Erasmus programmes will continue to go ahead and receive funding until they are due to end.  The future of the UK's participation in the programme remains uncertain and will depend on the outcome of overall negotiations still to be finalised. To keep in the loop, check the official Erasmus+ website for any updates.
Scholarships
Currently, EU students are eligible for most of the same scholarships as UK students, but this may change after Brexit. However, this does not mean that there will not be scholarship funds available for EU students.UK universities will want to continue to attract EU students, so any scholarships that are currently offered to EU students will either continue or new ones will be developed. There are many scholarships for International students (non EU) and if EU students start to be considered the same as International students after Brexit, there will continue to be funding options open to them too.
It is worth nothing that many European countries have Societies, such as the British Italian Society society or Anglo-Danish society, which often give grants to students from each country to go and study in the other, with the aim of promoting mutual understanding. It is worth investigating whether there is a society of this nature with your country.
Staying in the UK following study
In order to accommodate EU students after Brexit wanting to continue living in the UK following university, a Graduate Route work visa has been created. This will allow all international students in the UK (including EU students from 1st January 2021) to stay in the country for up to 2 years to work from Summer 2021.
UK students studying abroad
With core focus on EU students after Brexit, you may be wondering what will happen to UK students wanting to study abroad. All the necessary information regarding study in the European Union can be found on the official government website. However, in short, you will be eligible to your current rights if moving before 31st December 2020.
Similarly to EU students, UK students wanting to study abroad after this date may have to pay different fees and apply for a student visa. You will need to check the requirements relating to your individual university of choice and your personal circumstances.