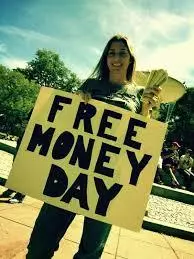 We estimate that there are around £120m worth of scholarships on our database for UK/EU students. This is extra money that you do not need to pay back. A scholarship is literally money that you don't have to repay. Money, for free!
The average scholarship value is around £1000, whereas the average student debt on graduation is roughly £50, 000. Perhaps that's just a drop in the ocean? Let's contextualise it.
When you consider that the minimum wage for a 21-24 year old is just £6.70 and most students won't earn more than that in any part time job, you would have to work 150 hours to earn £1000. That's four weeks working a full time 35 hour week.
Now, instead of doing 4 full 35 hour working weeks, let's say a kind gentleman or lady on the street approached you with a sack of money, and wanted to give it to you for free, you might rightly be a bit dubious. "Hmm, this is probably drug money, or maybe stolen cash", you'd probably think to yourself. But in the case of scholarships, you'd be wrong! That money is being gifted to you and it could be for any number of reasons such as you're the first in your family going to university, or because you happen to be really good at football.
Scholarships can make a difference.
What could you buy with £1,000?
One term's accommodation – the average student pays £96 per week on accommodation, so over a 12 week term, that £1,000 almost covers it.
312 pints of beer – Can't endorse that you make this purchase all at once, but feel free if you absolutely must.
See 100+ films at a cinema – Just… don't watch Now You See Me 2. Give that film a miss.
Order 104 Dominos on Two for Tuesdays – Hey if you decide to do this one let me know. I'll be there.
Book a return flight to Botswana – I don't know why you would, but you could, and that's the important thing here.
Hire out two Elvis impersonators to have an Elvis-off for your own enjoyment – They cost about £450 each. I looked it up.
If you think scholarships are elusive, exclusive grants for those who get 100% on every test since they were 2 years old, then you could be missing out on easy money my friend!