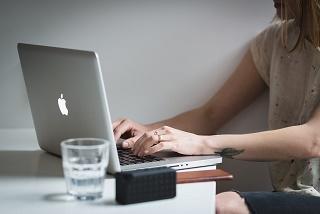 The personal statement is arguably one of the more challenging aspects of putting together your UCAS application form. Though it is perhaps one of the most important. Writing a UCAS personal statement is your opportunity to truly personalise your application form and tell the university you are applying to why you would be an ideal candidate for your chosen course.
It goes without saying that admissions tutors read through thousands upon thousands of personal statements each year. So what exactly can you do to ensure that yours stands out amongst the noise? By all means, a killer opening sentence and a powerful closing line will undoubtedly wow the reader and work in your favour, but what about everything in-between?
Writing what is essentially an essay about yourself is certainly no easy feat. Especially when there is so much pressure involved. So, to set you off on the right track, we're talking through some of the most crucial do's and don'ts to keep in mind when it comes to writing your personal statement.
Do let your personality shine.
Writing a personal statement gives you the opportunity to bring a real sense of your personality to your UCAS application form – so don't be afraid to let it shine! As much as the admissions tutors want to hear about your achievements and experience, they want to hear about your interests that drive your determination to get onto the course you have applied for. Though, this is something you should be careful with. For example, avoid overdoing it with your sense of humour. It certainly can't be guaranteed that the admissions tutor will share the same view.
Don't use cliches.
Keep in mind that university admissions staff read thousands of personal statements every year. It's no surprise that they're overly familiar with certain words and phrasing, which quite honestly, don't tend to impress them. Avoid phrases like 'from a young age', 'since I was a child', 'I've always been fascinated by' – you get the idea.
Don't make unsupported claims.
The university admissions staff want to read all about your achievements and experience. They want to know how it all applies to furthering your education in your chosen course. However, you should be careful not to make any unsupported claims. Lying about or exaggerating your achievements or experiences will do you no favours in the long-run. If you claim to work well within a team, be prepared to give real, valid evidence of this; whether you worked as part of a team for a project in school, through work experience or volunteer work. Remember to show, not just tell.
Do write several drafts.
For many people, the first draft is never going to be your best work. So, write up your first draft, gather all of the second opinions you need, and re-draft your personal statement as many times as you need to. It help you to correct any mistakes with your spelling, grammar and punctuation, as well as help you to fine-tune any details and eliminate any irrelevant information. Only you will know when it's complete.
Don't be negative.
We get it – writing about yourself is difficult, never mind 'selling yourself' when writing your UCAS personal statement. You're certainly not alone in your struggles. Speaking negatively about yourself, your experiences or your achievements won't go down well with the admissions tutor reading your statement. Avoid talking about why you haven't done something, or why you maybe dropped a subject in school. Focus on the positives. Don't downplay your achievements.
Do write it early.
Trust us, making a start on your personal statement the night before the deadline is not a good idea. It won't give you enough time to do it properly, nor will you have the time to gain any second opinions or re-draft it if you need to. Do you really want to send in a rushed application to the university you hope to attend for the next three years? Get started on it early. Give yourself plenty of time to work on developing it. You'll feel that much better about getting it done in plenty of time.
Don't plagiarise.
It really goes without saying, but when writing your UCAS personal statement it should be entirely your own, original work. UCAS uses stringent similarity and plagiarism software on all applications submitted. Your universities will be alerted if you're found to be copying anything from another source. The personal statement is an understandably tough document to write. You should never give in to temptation to steal someone else's work. The personal statement is designed to showcase your individual personality, your achievements and your experience. By copying someone else, you eliminate that and it becomes futile. In some cases, university admissions tutors may even take action against reported cases, if the plagiarism found is particularly severe.
Do get input and advice from parents and teachers.
Getting a second opinion on something will always be beneficial, so don't hesitate to hand the first draft over to your teacher or parents. After all, a fresh pair of eyes might help you to identify small details that you may have missed out. Though, as helpful as it is to gain another perspective, be careful not to get too much external influence, so much so that someone else begins to structure or even write your personal statement for you. Remember, admissions tutors want to hear your voice, not the voice of your parents or teachers. And don't doubt – they will certainly know the difference.