Summer is fast approaching and for many of us, it's a time where we can finally take a relaxing break from university. We can bask in the sun, hang out with friends and watch Netflix without the constant anxiety that we really should be working on our essay instead. It's understandable that getting a summer job is the last thing on our mind, but it can be one of the best things you can do! Not only financially, but for your growth as a person and as an employee too.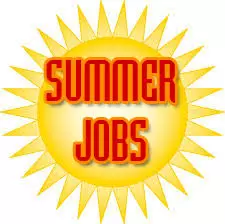 How Would a Summer Job Benefit Me?
1. Join the Working World
Having a job over the summer can help you in so many ways. To begin with they're great for getting a foot into the working world. Seeing as businesses are short-staffed and busy during this period, they often lower the requirements and don't expect you to be super qualified for the job. This is great for students that have never worked before as businesses overlook the fact you have no experience and are willing to give you a chance. Now that you have work experience it'll be easier to apply to jobs in the future! Also, summer jobs are temporary, but if you have done a good job some businesses will offer you a permanent job that way you don't have to struggle to find a job during term time.
2. Give Your CV a Boost
In addition, they're great at making your CV stand out from the crowd. With so many people (not just your fellow classmates!) applying to jobs, employers want to hire the best. Working over the summer allows you to gain relevant and transferable work skills such as communication, organisation and time-management. Now what separates you from someone that hasn't worked, is that you have evidence of when you used these skills in a work setting rather than at your university. Employers like that because they can see how you'll perform in a work situation. It also shows that you spent your summer being productive and a hard worker than doing nothing all summer.
3. Better Yourself
If you have bad habits that need changing, having a summer job can help you better yourself. You can pick up better habits such as being on time, handling conflict and working under stress. All this will not only help you in a working environment but also in your day to day life.
4. Test out Your Interests
Furthermore, summer jobs are beneficial because they help you get to know yourself more. If you have a job you want to do when you graduate, you can work in a position that uses the same skills so you can see if the job is for you. For example, if you want to work in a sales based role in the future, you can become a retail assistant. It allows you to see if you feel comfortable talking to different people and have the skills to persuade them to buy what you're selling. Or, you can work on these skills for the future. That way you can decide whether you still want to consider a career in sales. You can also undertake an internship during the summer which will be significantly harder than a regular summer job, but definitely worth it.
Internships, like a regular summer job, are great for you to explore your interests and gain experience. However, the advantages of an internship as opposed to a regular job is that you can actually experience working in the future job you wanted rather than in a similar role. The skills you learn or improve will also be more relevant and favoured highly when you find a more professional job after graduation. Internships are available throughout the country and even abroad, but internships in London are the most common as many companies are based there. Living there is expensive, but you can apply to scholarships that will provide extra funding. Despite all the positives, the downside to internships is that not every internship is a paid position.
Are Non-Paid Internships Still Worth It?
I don't recommend that you completely write off non-paid internships as they'll improve your employability and even though they're not paid many offer reimbursements. So, most companies will pay for your travel and food expenses. The only thing you would have to worry about is rent (if you're not living with your parents) and living expenses. But, if your internship is completely unpaid there are many ways to fund it such as getting a part-time job, asking your university for help with funding or even applying to scholarships. Living with your parents or a family friend will also reduce expenses greatly. Therefore, it is possible to have a non-paid internship without breaking the bank, but always check your financial situation and plan for the future before considering a non-paid internship.
When Should I Get a Summer Job?
Summer jobs start becoming available as early as November and December since many employers want to make sure they have people to work over the summer period. Don't worry if you didn't apply during those months! Most jobs start being advertised in April/early May until late July. So, you have plenty of time to perfect that CV and start applying!