It's competition time!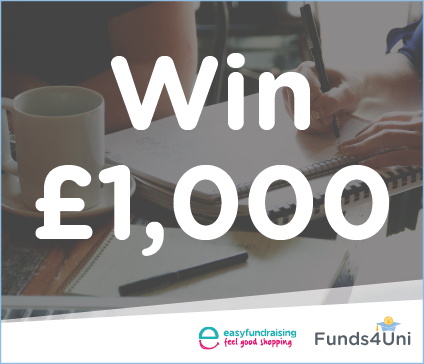 Get free cash towards your uni costs and you could win a massive £1000!
As students find that their maintentance loan is not covering their day to day living costs, any extra money is definitely going to come in handy, which is why we are offering you the chance to not only earn free donations towards your education, but also be in with the chance of winning an additional £1,000 cash.
All you have to do is use Funds4Uni via easyfundraising to raise money for your course fees and living costs before 20th September and as well as getting a free donation from over 3,300 participating retailers when you and your family shop online, you will be entered in to a free prize draw with a chance to win this fab prize of £1000.
Funding your studies the easyfundraising way
Funds4Uni is a partnership between The Scholarship Hub and easyfundraising, which allows students to set themselves up as a "fundraising cause" and invite friends and family to support them for free through their usual online shopping. We appreciate that your education is a really good cause and that your friends and family will be delighted to help you achieve your goals – especially when it costs them nothing to do so!
Take a tip from Adam.

6th Form student Adam Kerr has already raised over £300 towards his costs with Funds4Uni via easyfundraising: Adam says: "My mum uses easyfundraising to do food shops at supermarkets such as Sainsbury's and I use clothing shops such as ASOS. Plus, since I'm learning to drive I've collected donations just by getting insurance quotes."
If you are not already registered with Funds4Uni, register now and start raising money before 20th September and you'll be in the draw to win £1,000.