While you are busy doing your Christmas shopping, don't forget you could also turn some of your spending into much needed cash with Funds4uni.
Thousands of leading retailers will send you cashback donations towards the cost of your life at uni when you do your Christmas shopping – plus you could win £100 to spend at Amazon too. Find out more

Free cash when you buy stuff online!
You and your family are probably going to shop online a whole lot more this festive season – for obvious reasons! When you register for a free Funds4Uni account, every time you or your family shop online, the retailer you shop with will send you a free cashback donation to help you with your uni costs.
There are over 4,400 retailers who will send you free donations when you shop, including Amazon, eBay, Asos, John Lewis, Argos, Boohoo, Apple, Currys PCWorld, Urban Outfitters, Etsy, Waterstones, Just Eat, H&M and Tesco.
The donation is usually a certain percentage of how much you spend (but at no extra cost to you!) – for example, spending £50 with H&M means a £1.50 donation.
If you think about how much online shopping you and your family will be doing over the next few weeks, you can see how much you can earn and how quickly it can add up for you.
Here's just a few things that could earn you free cashback this Christmas:
Playstation 5 from Game? That earns cashback.
New shoes from Office? That earns cashback too.
M&S jumper for Gran? Of course.
3 for 2 gift sets from Boots? Yep!
Christmas cards from Moonpig? Absolutely.
Christmas Eve takeaway from Just Eat? Even that!
So, no matter what you and your family are buying online this year, you'll be able to collect a free cashback donation at the same time. Lots of students are already using it. It's free to register and use and completely safe and secure too.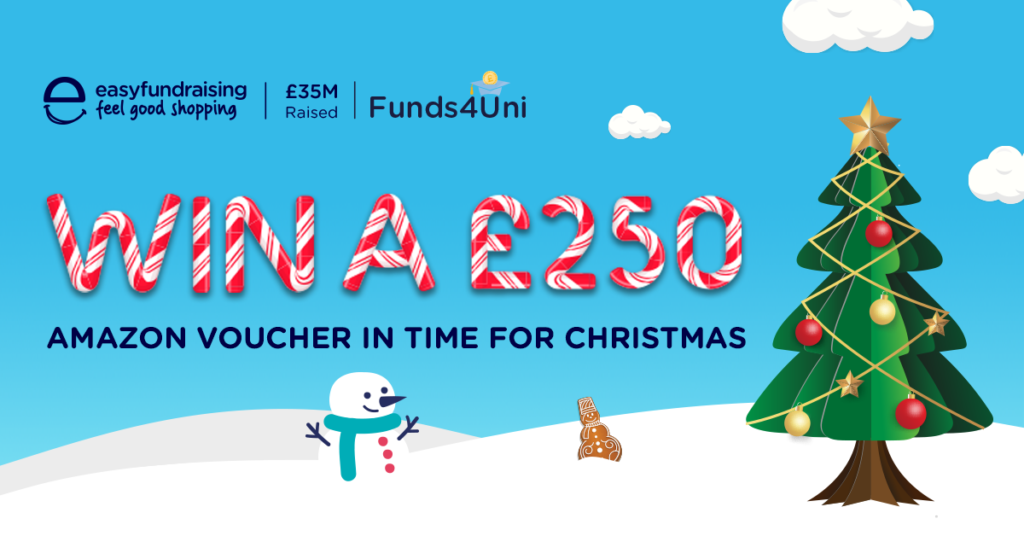 Win £250 to spend at Amazon
Plus, as we want to spread a little joy this Christmas so we're giving away an Amazon voucher worth £250.
To be in with a chance of winning, sign up to Funds4Uni for your free account by 23:59 on 12 December 2021. If you're already registered and fancy your chances, raise a donation in the same timeframe and you will be entered automatically. For an extra entry, get a new supporter on board; this can be someone in your family, a friend, your mum's best mate, Kath, whoever. Full T&Cs apply.
If you're our lucky winner, you can use your £250 voucher to help you with the cost of gifts for your family and friends or you can treat yourself to something instead – we don't mind what you do with it! Either way, we'll make sure you get your prize in time for Christmas.