We've all been teenagers once but it's easy to forget what matters as the agony of teenage hood fades in to the distance, so here is a gentle reminder to any parent whose child is due to start university this September.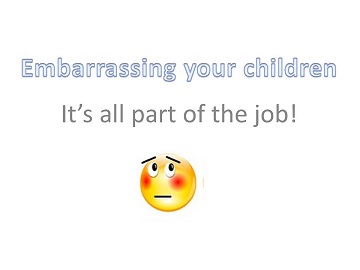 We have put together our top tips on things you should not do as a parent if you want to remain in favour, as you set your child free on University life.
Don't forget, you are old – you may feel the same in your head as you did when you were 19 and setting out in the world, but from the outside you are not. You are not cool anymore (at least in their eyes) and even if you think you are au fait with teenage culture, it doesn't have the same effect coming from your mouth.
Speak only when spoken to – as you arrive at the University Halls and you are unpacking the car and settling your son or daughter in to their room, do not be tempted to try and make friends for them. Don't strike up a conversation with anyone, unless they talk to you first.
If there are more than 2 people in a room, leave – you walk in to the kitchen and find a crowd is gathering as new students are meeting each other. Don't be tempted to sit down and join in the conversation to find out who your son/daughter will be living with. Just quietly and surreptitiously leave the room.
Don't draw attention to your child in any way – no calling out to them from afar so everyone else turns round and definitely do not use their pet name that you have for them at home.
Do not draw attention to yourself either – Do not turn up in an open top car with your 80s music playing loudly for all to hear. Preferably wear grey and blend in to the background.
Do not blubber when you leave them – the final parting will undoubtedly be really hard and a tear could well up in your eyes as you say goodbye and leave your child to fend for themselves for the first time, but do not go overboard. Show them you are sad to leave them and will miss them but wait until you have driven off down the road before you let it all out. For those of you who feel emotion for other reasons, try to avoid breaking open the champagne and celebrating peace at home until you get there!
They don't want to hear stories of what you did at University – some say University days are the best of your life and whether that's true or not, if you did go to university yourself you will undoubtedly have some stories of things you did which you are longing to relive. Quite simply, don't! They're going to create their own stories.
Don't phone up the university – when they were at school, you were used to being able to talk to teachers, get information about what they are up to and take control. It's up to them now. They have to learn by their mistakes and you have to let them make those mistakes. It's all part of the process towards independence.
Don't' crack jokes – gregarious dads take heed – it may have been funny 10 minutes ago in the car driving to the uni, but as soon as you arrive, keep them in your back pocket.
Whatever happens, it is a momentous time for both parents and children and is bound to take some adjusting to on both sides. A new relationship between parent and child can be difficult to adjust to after so many years, but handled correctly and sensitively it is one that will flourish as they themselves flourish into independent adults.
Good luck.