Whether they show it or not, most people are nervous about starting university. We have asked some students who have already started, what would their top tips be for new first year students?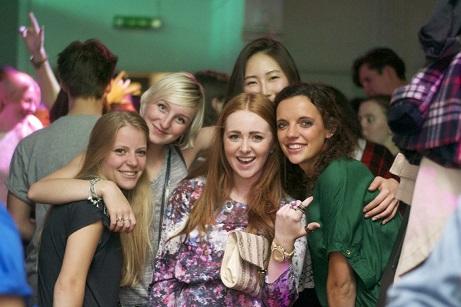 Meet as many people as you can – when you arrive and during the first week, don't just limit yourself to talking to your flatmates. Meet your flatmates and then go together and knock on doors upstairs and downstairs. Knowing people in the whole building will widen your network.
Look out for people on your course – if you find someone who's doing the same course as you, suggest you go to lectures together at least to begin with. You can find the lecture halls together and walking in with someone else is much easier than on your own. Chances are you won't be best friends forever, but you will have someone to learn the ropes with at least.
Be yourself – meeting new people, it might be tempting to redefine yourself, throw out the old and in with the new, but if it's not really who you are, you will find the act hard to maintain. You will be living in very close proximity with these strangers for the next year at least and you will need to drop your guard sometimes. Don't create a new persona, unless you can keep it up and that's who you want to be from now on.
Don't be persuaded to do things you don't want to do – it can be tempting sometimes to be led by peer pressure to do things you would not normally do. All students will have heard stories of outrageous behaviour, wild parties and initiation ceremonies. If this not you, do not do it to fit in. If it is not you, you do not want to fit in. Be true to yourself and you will find like-minded people.
Don't worry if you don't make friends at first – making friends takes time. Meeting people, making acquaintances is not the same as making friends, which takes much longer. You will find people form groups fairly quickly, as most people don't want to be alone, but those initial groups will soon disperse as people find other friends. Real friends take time, don't rush it and don't worry if it doesn't happen straightaway.
Download Yik-Yak – Even if you've never heard of Yik Yak, you probably know someone who uses it. The app, lets anyone post anonymous messages visible only to others nearby, has a massive following in university towns and it's the way that students keep up to date with things that are going on in and around campus.
Get to know the local area – being on a campus it is easy to spend all your time there. On most university campuses you will have everything you need right on your doorstep, but after a while it can start to feel as though you are living in a bubble. There is usually a lot going in University towns, catering for students in particular. You will feel less institutionalised if you take advantage of the local amenities as well.
Throw out any food that goes off – even if it isn't yours! Mould has no place in a fridge. Don't let it fester. Just bin it, even if it wasn't yours unless you think they are saving it for some scientific experiment. You can be sure that whoever it belonged to will not be eating it.
Dust – listen to the little voice in your head that belongs to your Mum, from time to time. Dust that builds up in your room over months, harbours a lot of germs and is pretty revolting to clear up all in one go. The occasional dusting spree won't go amiss.