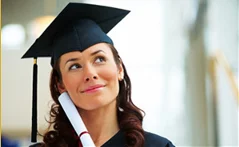 In this day and age, you might be surprised to find out that there are a number of high paying scholarships which are just open to women. This is because they are trying to encourage more women to study specific subjects (particularly STEM subjects) where women are still under represented, or to help women overcome specific barriers.
Here is a selection of some scholarships just for women. Even though you will see that for a few of these the deadline for this year has passed, they will most likely be offered again next year, so do take note if you are eligible.
Yorkshire ladies council
Open to women under the age of 21 who have a place at a British University and are unable to fund it themselves.
Women's Careers Foundation
Applicants should be females over 21 years old (although younger applicants are considered if taking courses in music or dance) and must be a citizen of the United Kingdom.
Funds for Women Graduates
Grants to help women graduates with their living expenses (not fees) while registered for postgraduate study or research at an approved institution of higher education in Great Britain. Open to UK and International students studying in the UK.
Women Techmakers scholarship
Female students who are studying Computer Science at any university in Europe who can demonstrate academic background, passion for increasing the involvement of women in computer science, and leadership skills.
Women's Scholarship
Worth up to $40,000 this scholarship is open to women worldwide who are pursuing a degree with a focus on cybersecurity or information assurance.
Sky Women in Tech Scholarship
Open to all women aged 18 – 25 who have a passion for technology and commitment to a career in the tech industry
Morhpisec's Women in Cyber Security Scholarship
Open to women from the US, EU and Israel who are currently studying for an undergraduate degree in a discipline related to Cyber Security.
To find these and thousands of other scholarships, grants and bursaries, register to search our database.