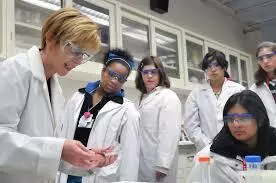 STEM Subjects (Science, Technology, Engineering and Maths) have traditionally attracted more men than women, however the industry is keen to change this. Fortunately for the girls who are good at science subjects, there are an increasing number of scholarships being offered. The aim being, to encourage more women in STEM to pursue their passions.
Do not fret if the deadline has passed for these scholarships within this academic year. These scholarships are often repeated. Here are some examples of scholarships for women in STEM subjects for both undergraduates and postgraduates
This Scholarship is for 7,000 Euros for students who are studying Computer Science at any university in Europe and to be either at undergraduate or postgraduate level. You must be able to demonstrate academic background, passion for increasing the involvement of women in computer science, and leadership skills.
This scholarship is available to women & non-binary students studying a Computing Science degree. Applicants to have a household income below £42,875 and achieve at least AAB at A level or equivalent. Reward up to £9,000 over the course of the degree.
£10,000 over course of degree. Applicants must be under 30 years of age and starting their first undergraduate degree. You must also be former attendees of a school/college in Westminster and/or lived in Westminster prior to starting university. Priority will be given to first in their family to attend university, care leavers and students with disabilities. Women studying engineering are encouraged to apply. Furthermore, please see website for complete list of eligible courses.
The £1,000 bursary is open to female applicants. Applicants must have accepted (FIRMED) their UWTSD offer to study a full-time undergraduate programme in Engineering or Computing.
The Entrance Scholarship is based on academic merit. Female students who can demonstrate academic promise and the passion for increasing the involvement of women in mathematics and/or physics. Furthermore, a financial reward of £500 is available.
Our Scholarships for women in STEM list wouldn't be completed without this fantastic opportunity. Open to first year students on one of the specified courses in Engineering. Applicants must have attained excellent academic merit. A total reward of £9,000 split over the course of the degree.