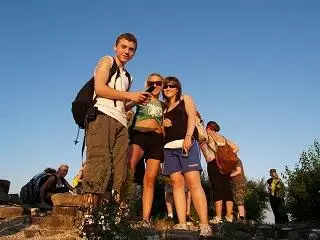 Whether it's to take a break from studies, to spend some time volunteering, to gain real-world work experience or to travel the world before diving into the throws of university life – taking a gap year for whatever reason has the potential to be tremendously beneficial to your personal growth and to better prepare you for life at university.
Alas, there are pros and cons to consider with everything, and gap years are certainly no exception. To shine some light on the matter, we're detailing some of the most important positives and negatives that come with taking a gap year, to help you make a more informed decision on whether taking time away from your studies is really the right choice for you.
PRO: It gives you time to pursue other passions.
Taking a year long break from your studies gives you the chance to reflect on what you really love to do. You could spend your time pursuing hobbies and interests that are often neglected in favour of studying – as a result, you might even discover that you want to go down a totally different path.
CON: You risk losing your academic momentum.
The best case scenario for taking a year long break from your studies is returning to them feeling refreshed and motivated. Worst case scenario is that you lose academic momentum completely. The last thing you want is your transition back into your studies being a difficult one – so you really should consider whether taking such a long break is something that will work for you personally.
PRO: It gives you the opportunity to work and get money behind you.
University life is an undeniably expensive one, there's no denying it. Therefore, there's certainly no shame in spending your gap year working to gather funds that can help with your living costs whilst at university. It can help you to feel much more confident about going off to live independently for the very first time, taking a huge financial pressure off your shoulders.
CON: You risk wasting a lot of valuable time.
When you decide to take a year out, it's hugely important to have a clear plan mapped out. Otherwise, you could end up wasting a lot of valuable time. The last thing you want is to look back on the year and realise the most productive thing you've done in a day is binge-watch an entire series on Netflix – it's never, ever going to look good on your CV.
PRO: It could look impressive on your CV.
Of course, if you do follow a concrete plan and spend your year out the right way, it could look pretty snazzy on your CV and hugely impress future employers. If you spend it working, gaining experience, or even volunteering, it can provide you with valuable new skills that any employer would be impressed by. Similarly, if you spend it travelling, it could give you a wealth of cultural awareness and a profound ability to live and work independently.
CON: It can be very expensive.
If you're planning to travel during your gap year, depending on your destination and the duration of your trip, the likelihood is that costs will quickly mount up. Without the proper planning and organisation, a gap year abroad has the potential to take a huge financial toll on you. If you're in any way concerned about funds, you need to ask yourself whether it will be a wise investment for you.
PRO: It can be a once-in-a-lifetime experience.
Sadly, once you become a fully-fledged working adult, holidays are much harder to come by. Taking a gap year gives you the opportunity to make the most of your time away from the realities of life. Especially if you spend it travelling – getting the chance to travel so extensively for such a long period of time will be much harder to come by in the future.
CON: You will be a year behind.
For many people, this can be a particularly tough negative. You'll need to consider the fact that many of your close friends will already be well settled into university life by the time you get there. As well, taking a year out can add an extended period of time to an already potentially lengthy educational process, which could result in you missing out on an early start in your career.
PRO: The life experience can make you better prepared for university.
Truth be told, a gap year has the potential to teach you much more valuable life lessons than sitting in a classroom ever could. This is especially the case if you decide to spend your year travelling, where you will undoubtedly gain the abilities to live and work independently, which will in turn better prepare you for independent study and living whilst at university.
CON: It's a risk.
Like most things in life, taking a gap year is a risk for many reasons. You could risk all of the above cons and so much more, but ultimately, it's down to you. Whatever you choose, keep in mind that taking a gap year and particularly spending time travelling abroad will be life-changing.
Looking for inspiration?
Read more to find some inspiration on what to do for your gap year.