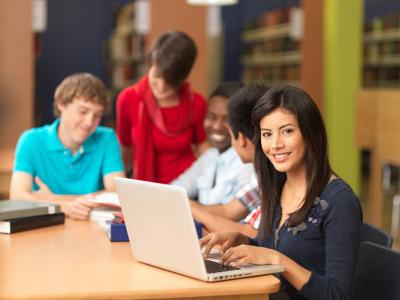 At The Scholarship Hub we are constantly looking for ways to help students find additional funding for their degrees and to help ease your way through university by reducing your student debt.
Whilst it would be an ideal world where students did not need to find part time jobs to help them through uni, we realise that many of you will need to and so we have put together some ideas that might provide you with an easier way to make some money while you study, without having to work until 1am behind a bar, or stacking shelves in the local supermarket.
1.Freelance Work

Think about the skills you have and look for freelance work. These could include web or graphic design, social media, writing, blogging, speaking another language or even just typing. Whatever your skills there will be companies out there that could use them on a freelance basis.
There are many websites which provide a place for you to register and promote your skills as a freelancer –  www.freelancer.com ; www.elance.com  – and don't get put off by the fact that you will be competing with the professionals. There will also be plenty of jobs where the companies do not need or cannot afford an experienced pro and so would be happy to take on a student.
The beauty of freelance work is that you can work when you want and you are also building up experience for your CV often without leaving your room.
2. Tutoring
Advertise your services as a tutor. You might not be a qualified teacher but you do have an A'level in at least 3 subjects which will mean that you could tutor younger children in those subjects. There are websites which will help you find work, such as https://www.studenttutor.co.uk/ or an advertisement in a few local newsagents near schools might do the trick. As a tutor you can earn £20 per hour or more but do be prepared for dealing with tired children who don't necessarily want to be doing extra work after school!
3. TEFL – Teaching English as a foreign language
Even just the fact that you speak English could provide you with work opportunities around the Globe during your summer holidays and also potentially beyond your studies.
You will need to undertake some training for this, which will cost money, but you should soon earn that back and more and training can be done online, in your own time.
Find out more at www.onlinetefl.com ; www.teach-english-jobs.com
4. Competitions
Maybe not a job as we know it, but there are plenty of professional competitors out there and you can win some fantastic prizes which you can either keep or sell. You do have to be prepared to give your email address to companies and will probably end up getting a lot of unwanted mail, so we would recommend setting up a separate email address just for your competition entries.
Here are some good sites to try: www.getmeaticket.co.uk ; www.allaboutprizes.com/uk;
There are also a lot of student competitions which draw on particular subject skills and if you win one of those that will look great on your CV.
See www.studentcompetitions.com 
5.Set up your own business
If you have a great idea or spot a gap in the market, it is relatively easy to start a new business from anywhere these days if you have a computer. The upside of this is that it has unlimited potential but the downside is that running a business is time consuming and you may find you don't have time to do it properly while studying.
Many universities these days are setting up departments which provide entrepreneurial support to students wishing to start their own business and of course it would look great on your CV.
6.Paid Surveys
Set up a separate email account and join some or all of the many paid survey websites. All they want you to do is complete lifestyle surveys and you get paid. You will of course start getting lots of emails from companies wishing to sell you things related to the answers of your survey, but if you have a separate email specifically for your surveys they should not bother you too much.
Take a look at these: www.globaltestmarket.com; www.paidsurveys.uk.com/;
If you take a professional approach to this and set aside an hour each day to answer the surveys you are sent, you could earn some nice extra money from it. Not necessarily useful for the CV but good on the pocket.