The cost of a Masters degree varies, depending on the course, the university and the length of the degree, but as a broad based average, you might expect to pay between £10,000 and £12,000 a year. Most Masters degrees last for one year.
Unlike undergraduate degrees, the universities can decide their own fee structure for Masters degrees and the price will often be dependent on factors such as the amount of contact hours and lab time. There is no fee cap either, and some MBA courses however can cost up to an eye watering £59,000 at the more prestigious business schools.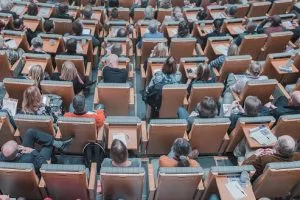 Don't forget the living costs
On top of the tuition fees, you will also need to bear in mind the living costs while you study. This varies enormously around the country, with London being the most expensive, surprisingly followed by Edinburgh and Aberystwyth, and yet Cardiff is the most affordable. This shows that it is not always the places you think most obviously (apart from London of course!) are going to be the most expensive.
Funding your Masters
The UK government offers postgraduate student loans up to the value of £10,609. This is regardless of whether you are doing a one year or two year course. Therefore, if your tuition fees and living costs are more than that, you will need to find additional funding to cover your costs.
Sources of additional funding include scholarships, grants, bursaries, Funds4uni, and part time jobs, all of which can help you.
Does a Masters improve your employability?
Studying for a Masters is not just about getting a job. You may be doing it for the love of your subject, which is great, but many people will also want to know if the additional time, effort, investment and debt that you take on to do your Masters is worth it?
The most recent survey (2018) on the graduate labour market shows that 76.5% of postgraduates are employed in highly skilled roles compared to 65.4% of graduates. Similarly, an average starting salary for a graduate is £34,000 and for a postgraduate it is £40,000. So if you are looking for answers as to whether you will get your money back, the chances are you will.
Private student loans – should you use them?
In addition to the loans offered by the government there are also companies which offer private student loans, but should you use them? The fact is, these loans are more expensive and the repayment terms are more demanding than the government loans. However, if you have no alternative way of getting the money, they are certainly a better alternative than running up debt on your credit cards or using payday lenders. It is worth looking at the options, but do remember what you will repay will end up being a lot more than you would have done if you were able to cover your costs in other ways.