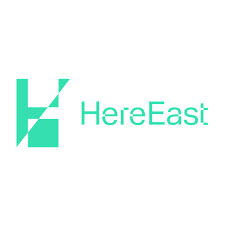 Here East is a campus Located in the Queen Elizabeth Olympic Park specially designed to encourage innovation and collaboration between the businesses, universities and startups who work and study here. Once the former Press and Broadcast Centre for the London 2012 Olympic and Paralympic Games, it has been transformed into a thriving technology driven community and is the most successful post-Olympic regenerations project in the world. Here East is home to a community of over 4,500 people and growing.
The Here East Scholarship Programme aims to support local people through higher education courses at the world-class institutions based on the innovation campus. The Programme will cover the full tuition fees for up to three people a year living in local boroughs. We welcome applications from students who are first in their family to go to university, where the cost may be prohibitive. Here East will be working with higher education institutions based on campus. These academic institutions include Staffordshire University London and LMA.
We are delighted therefore to offer the Here East Scholarship Programme, designed to support local young people who share our ambition to bring transformational change to east London.
What's on offer?
Full tuition fees
A top up to your maintenance loan worth £2,700 per year
Support facilitating work placements relevant to your course within the Here East business community
We will aim to provide opportunities for mentoring and company insights during the course of your degree
Who is eligible?
To apply for the scholarship, you must be
Currently residing in Hackney, Newham, Tower Hamlets or Waltham Forest and have resided in the borough for at least 3 years.
Must be eligible for and applying to Student Finance (England) for funding. (NB: Whilst your loan application does not need to have been approved by the time you apply for the scholarship, the tuition fee element of the award will be paid into your student loan account. You will therefore need to be approved for the loan in order to receive the award).
The student must have applied to or be intending to apply for an undergraduate programme for the academic year 2022/23 at one of the Institutions on the Here East campus (Staffordshire University London or LMA)
We particularly encourage and welcome applications from, but not limited to:
First in their family to go to university
Those who see University as a prohibitive cost
Care leavers and care givers
Scholarship awardees will be expected to become ambassadors and support with future scholarship applicants and winners.
Due to the high volume of applications received last year we encourage you to get your application form in to us as soon as possible. Please let us know if you require an alternative version of the form for accessibility by emailing [email protected]

Timeline
Applications Open : October 2021.
Applications close: 30th June 2022.
Shortlist and review applications end of July.
Winner announced mid August subject to meeting any entry requirements of the institution.
2021 Scholarship winner Maryam
Maryam Hussian, who attended Newham Sixth Form college and will be studying Film and TV Production at LMA, commented: "This scholarship has provided me with a sense of financial security and it will also enable me to get more involved in extracurricular activities. I grew up in care, and the majority of care leavers never usually go onto further studies like University. I will also be the first in my family to go to university so this scholarship is inspiring for those who are struggling financially or feel like they do not have access to further education. After winning the scholarship to LMA, I was very excited – it gave me that extra step of encouragement and I'm especially happy with the support that I have had and will continue to receive.
Terms & Conditions
The promoter of the Here East scholarship, which intends to provide financial and mentoring support to students from Hackney, Newham, Tower Hamlets and Waltham Forest, who might otherwise have been concerned about the cost of university (the "Scholarship"), is Here East of Queen Elizabeth Olympic Park, 14 East Bay Lane, London E15 2GW ("Here East").
By submitting an application for the Scholarship, the person making the application ("you" or "applicant") agrees to be bound by these terms and conditions and that you are eligible to do so and claim the Scholarship (in accordance with these terms and conditions) if you do win.
No other alternatives to the Scholarship will be offered and the Scholarship is not transferable.
How to enter
All applications must be completed and received by Here East via the online application form (as referred to at Condition 5 below) in full by midday on 30th June 2022 (the "Closing Date"). No consideration will be given to applications which do not meet all the eligibility criteria or conditions set out herein, which are incomplete or invalid, or which are received after the Closing Date. To avoid doubt, all competition entries received after the Closing Date are automatically disqualified.
All applications must be received via the online application form.
To enter, applicants must submit an online application entry form provided on thescholarshiphub.org.uk/here-east-scholarship by the Closing Date (as defined in Condition 4 above).
No purchase is necessary in order to apply for the Scholarship.
Here East accepts no responsibility for applications that are lost, mislaid, corrupted, damaged or delayed in transit (regardless of cause, including, for example, as a result of any equipment failure, technical malfunction, systems, satellite, network, server, computer hardware or software failure of any kind). Here East will also not accept proof of transmission as proof of receipt of entry.
For any questions about the Scholarship, please contact the Scholarship Hub at [email protected] or see www.hereeast.com.
How the winner is determined
The Scholarship application entries will be judged by a selection committee panel in accordance with objective scoring guidelines that aims to determine the most apt, deserving and original answers in applications (such objective scoring guidelines will be available on request to applicants). You will be notified if you are a Shortlisted Candidate by 31st July 2022. All Shortlisted Candidates must submit proof of acceptance on their university course once A-level results have been awarded in August. The Shortlisted Candidates will then be judged by the same panel and in accordance with the same scoring guidelines as referred to earlier in this Condition 10 to decide the final Scholarship winners (the "Scholarship Winners").
The Scholarship Winners will be notified personally by 31st August 2022. Here East will make all reasonable efforts to contact the Scholarship Winners. If a Scholarship Winner cannot be contacted or is not available, Here East reserves the right to offer the Scholarship to the next eligible applicant selected from the applications that were received before the Closing Date. Here East will not notify unsuccessful applicants so, sadly, if you do not hear from us by 31st August 2022, you should assume that your application has been unsuccessful.
The decision of the selection committee panel (acting reasonably) is final, there is no appeal against this decision and no correspondence or discussion will be entered into.
The Scholarship selection committee will comprise members from Here East, the universities and The Scholarship Hub (the latter organisation is responsible for the administration of the applications and the scoring guidelines). Here East will send the full names of the individuals on the selection committee panel to anyone who writes within two months after the Closing Date requesting such details and who encloses a self-addressed envelope to the address set out in Condition 1 above.
Here East will comply with its obligation to publish or make available information that indicates that a valid award took place.
Eligibility
Subject to Condition 17 below, this Scholarship opportunity is open to all individuals:
a. currently residing in Hackney, Newham, Tower Hamlets or Waltham Forest;
b. who have attended secondary school in Hackney, Newham, Tower Hamlets or Waltham Forest;
c. Must be eligible for and applying to Student Finance (England) for funding. Whilst your application does not need to have been approved for you to apply, it will need to be approved for you to be selected for the scholarship. An income assessment must have been conducted and consent given to share the information with the university; and
d. have applied to or be intending to apply for an undergraduate programme for the academic year 2022/23 at one of the Institutions on the Here East campus (Staffordshire University London or LMA)
This Scholarship opportunity is not open to:
a. employees or the immediate family of employees of Here East; and
b. applicants who have previously completed any undergraduate study (at any UK university or elsewhere).
Only one application will be accepted per applicant. If an applicant is found to have submitted more than one application, they will be disqualified and all of their applications will be rejected.
In accordance with Condition 10 above, all Shortlisted Candidates must submit proof of acceptance on their course once A-level results have been awarded in August 2022.
Entries on behalf of another person will not be accepted.
Here East reserves all rights to disqualify you if your conduct is contrary to the spirit or intention of the Scholarship.
If the Scholarship Winner does not successfully graduate, Here East has sole discretion on whether to provide the Scholarship award.
The Scholarship award
Here East will award a Scholarship to no more than three Scholarship Winners per academic year. The Scholarship awarded to each Scholarship Winner is:
a. a one-off payment of the tuition fee loan obtained by the relevant Scholarship Winner from Student Finance England at the end of the relevant Scholarship Winner's degree. This means the Scholarship Winner must take the tuition fee loan from Student Finance England, but the initial loan amount will be repaid by Here East on the Scholarship Winner's graduation. The Scholarship Winner will be responsible for paying any interest or other fees incurred by the Scholarship Winner on the tuition fee loan during the course of their degree and beyond; and
b. maintenance payments of £2,700 for each academic year of the Scholarship Winner's university course of study. Here East will make this payment directly to the Scholarship Winner at the start of each academic year in order to provide additional financial support on top of any Maintenance loan the student takes.
In the event that the Scholarship Winner wishes to withdraw from their course of study, the Scholarship Winner may be required to repay Here East up to 50% of the maintenance costs that they have received as part of their Scholarship. This will be assessed on a case-by-case basis (taking into account factors including the amount the Scholarship Winner has received from Here East and the date of and reasons for the Scholarship Winner's withdrawal from their course of study) and a suitable repayment plan will be agreed should it be deemed necessary by Here East.
Continued support by Here East of the Scholarship Winner over the duration of their course of study will be subject to the Scholarship Winner's continuing academic success. The decision as to whether the Scholarship Winner is deemed to have made satisfactory progress on their university course of study will be at the sole discretion of Here East and the university. For the duration of the Scholarship, the Scholarship Winner will be required to submit progress reports when requested, which may include reports/feedback from their academic tutor or university.
Scholarship Winners may be offered paid internship opportunities during the course of their university degree but this does not constitute an offer of employment upon graduation, nor is there an obligation on the Scholarship Winner to accept such an offer.
Any Scholarship Winner found to have supplied incorrect or misleading information in their application at any time after the award will be liable to immediately repay any and all Scholarship awards.
In the event that a Scholarship Winner is required to repeat an academic year of study for any reason, that Scholarship Winner shall not be entitled to receive any award during such repeat year of study. At the sole discretion of Here East (with input from the relevant university), and only where applicable, Scholarship award payments may recommence if the Scholarship Winner progresses to the next level of study and is then deemed to be making satisfactory progress.
Data protection and publicity
When you apply for this Scholarship, your personal data (including your name and contact information) will only be used in relation to your application, unless you agree on your application form that Here East can keep in touch with you. You can find more on Here East's privacy policy here and The Scholarship Hub's privacy policy here. See also Condition 15 above with regard to the announcement of Scholarship Winners.
General
The Scholarship is not negotiable or transferable.
If there is any reason to believe that there has been a breach of these terms and conditions, Here East and the relevant universities reserve their right, at their discretion, to exclude you from participating in or receiving the Scholarship.
Here East reserves the right to hold void, suspend, cancel, or amend the Scholarship where it becomes necessary to do so.
These terms and conditions shall be governed by English law, and the parties submit to the non-exclusive jurisdiction of the courts of England and Wales.