Applications for this scholarship have now closed.
As part of our commitment to supporting students with their funding needs, we are pleased to announce the launch of the third Funds4uni scholarship.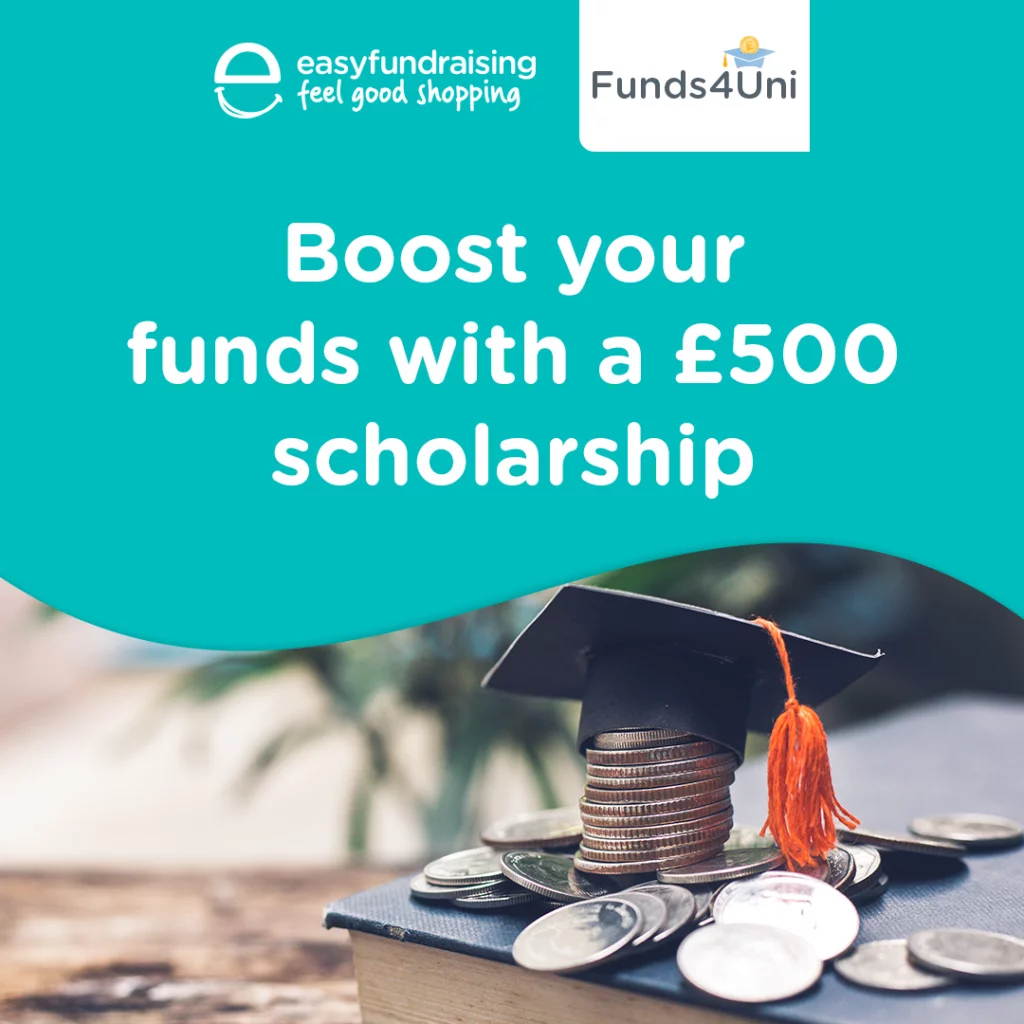 Created by The Scholarship Hub, with easyfundraising, the scholarship is open to any current or prospective UK student and is worth £500. This money can be used to support you in your studies. Whether you decide to use it for food, accommodation, books, travel or bills, we don't mind. It is up to you.
Am I eligible?
The scholarship is open to any UK citizen who is either a current or prospective undergraduate or postgraduate student. You must be already studying at or applying to study at a UK university.
How do I apply?
Create a free Funds4Uni account – or already have an active Funds4Uni account
Sign up at least 3 people to support you through Funds4Uni between March 1st 2021 and May 31st 2021 (see below on how to do this!)
Submit a short answer (200 words) to the following question.
"How would winning a scholarship of £500 help you while you are at university?"
Send your answer to [email protected] making sure to include your full name and year of entry to university.
What is Funds4uni?
Funds4uni is a partnership between The Scholarship Hub and easyfundraising where students can earn free cashback towards their uni costs when they or their families shop online with leading online retailers. It's free to sign up and use and your purchases don't cost anything extra. It's just free money from the retailers you and your family are shopping with anyway.
Every time you or your family buy something from over 4,300 shops including Amazon, eBay, Trainline, Asos, Just Eat, Argos, Boohoo, Tesco & Booking.com, the retailer you shop with sends you cashback which you can use towards the cost of your rent, course materials, travel and more.
How do I get 3 supporters?
Most students ask parents, grandparents, aunts, uncles and friends to sign up to support them and as it costs them nothing, they are usually quite willing. Once you have created your Funds4Uni account, you will be a given unique link that they can use to register and support you via their everyday online shopping.
How will my application be judged?
The judges will be looking to award the money to a student whose answer shows that the money will have the greatest impact on their likely academic success, their well-being, or their community
Good luck!

Full terms & conditions available here.