Answering surveys can be a great way to earn some money from home and something you can do in your own time, so particularly for students it's an easy way to earn a bit of money to keep you afloat, that you can fit around your studies.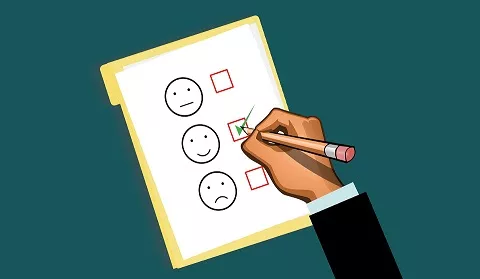 There are many online survey sites some offering cold hard cash, others offering rewards in the form of vouchers and gifts.
Here is a quick round up of some of the sites to earn some money from home which, in our opinion are genuine and do pay out regularly.  However, you must answer the questions honestly as checks are carried out and you can be thrown out if they think you are not answering the questions truthfully.
Ipsos I-Say
One of the largest survey-based market research companies. They work with trust brands and research companies worldwide. Rewards are by Amazon or high street vouchers. They also have prize draws for all members to participate in. The minimum reward threshold is £10.
InboxPounds
This company rewards you for taking surveys, earn cashback, play games, read emails or search the web in return for cash. Minimum reward threshold is £20 which can take a while to reach.
Swagbucks
A reward programme which pays out rewards and free gift cards or cash for the everyday things you do online. Get rewarded for Swagbucks Points (SB Points) for the things you do. These include watching videos, searching the web or answering surveys and referring your friends.
Cash in your SB Points for retail gift cards, PayPal credit or other rewards.
Panelbase
You earn £3 just for signing up and the minimum reward threshold is £10. Rewards are paid in by bank transfer or shopping vouchers. You can also donate your rewards to charity.
Hiving
Hiving run surveys on behalf of leading brands.  Minimum reward threshold is £4.  Additionally, all payments are by cash.
Nielsen
Reward yourself for using the internet by downloading the Nielsen app on your devices. This is an easy way to earn some money from home, as your internet behaviour is used to contribute to research on internet trends. Earn monthly points to redeem gift cards and prizes and you won't even notice you're working.
Academy
They provide data for academics and researchers at many top universities and companies. Rewards are by cash and you get paid between £1 and £10 per survey completed. Minimum reward threshold is £20.
Opinon Panel Community
Get £10 just for signing up.
Survey site for anyone aged 13.-30.  They are the UK's largest research panel for anyone aged 13-30. They offer interesting surveys and online focus groups for big brands and universities.  You will get rewarded by Amazon or high street vouchers with a minimum reward threshold of £25.  Surveys only take around 10 minutes and pay between 50p – £4. Furthermore, by qualifying for an online focus group you get paid £50.
Toluna
One of the biggest panels with daily online surveys, paid as cash via Paypal or Amazon or high street vouchers.
You receive surveys about certain products, services and issues. In return, you get rewarded. Occasionally you will qualify to try out products which you get free and then get paid for answering the relevant survey letting them know what you think of the product.
You can also play games on the Toluna website, which is a great way to earn some money from home and earn points which count towards your rewards.
Branded Surveys
Online community with frequent global market research surveys. Previously known as Mintvine, Branded Surveys are popular due to providing a high volume of surveys. Rewards are by Paypal or gift cards.
This is a great easy to use and fast paying website. Quick to respond to any queries.
You Gov
This survey company is a little different to others, focusing more on social issues and general interest topics. YouGov polls include topics such as politics, public affairs and commercial products. Great if you have big opinions as some of the results of these surveys are reported on the TV. Furthermore, most are on current issues that are in the news and they encourage you to express your views.
You'll get paid with rewards or by bank transfer with the minimum payment amount of £50.
OnePoll
Best known for short, quick surveys about every topic. OnePoll provide surveys to the press and major brands. You also get £2.50 for signing up. Rewards are by cash or Paypal payments. The minimum reward threshold is £40.
Survey Bods
You get £3 for signing up and completing your profile. They work with top companies who want your opinion. Rewards are by bank transfer, Amazon vouchers and prize draws. You can paid between 50p and £3 per completed survey and the minimum reward threshold is £15.
Valued Opinions
They are part of a larger market research group and send out online surveys to members whose profiles match broad demographics and requirements.
Rewards are by vouchers including Amazon, Sainsburys, M&S, etc. You will get paid between £1 – £5 per completed survey. The reward threshold is £10. The surveys are usually quite interesting and can take anything from 10-30 minutes each.
Mindmover
MindMover allow you to share your opinions on everything from food to public transport.
Surveys are usually worth between 50 – 1,000 points, and each point is worth one penny. This means the cash value of the reward for completing a survey can vary from 50p to £10. It takes around 15 minutes to take each survey. Once you've earned 2,000 points (£20) or more, you can redeem your points for money via PayPal or as an Amazon voucher. The minimum reward threshold is £20 proving this a great option to earn some money from home.
Populus Live
They are a big survey site who provide statistics to the press and current affairs programmes. Rewards are by cheque once you have received 50 point which equates to £50.
You need to be careful when answering the surveys as they have trap questions and if you fail the trap you will be thrown out of the survey.
New Vista Live
A leading marketing research company. Rewards are by money and prize draws and the minimum reward threshold is £50. 100 points equates to £1.
The Panel Station
They are a community with over 3.15 million panelists spread across the 35+ countries. You share your thoughts with the world's best brands and get rewarded.
Get rewarded by vouchers or cash.
So there it is, our roundup of surveys that are easy to join and require little time to earn some money from home. There a plenty more ways to make money and reduce you student debt, and with a bit of research, they can be yours!