What are Digital Technology Solutions Degree Apprenticeships?
Digital Technology Solutions Degree Apprenticeships provide an alternative way to gain an IT related degree, without the need to go to university full time and your employer covers your tuition fees.
By doing an IT degree apprenticeship you will be qualified to do most of the jobs that you would be able to do if you did a BSc Degree in Computer Science, but you will also graduate with on the job, practical skills, having worked in the role while you study.
What you will learn on a Digital Technology Degree Apprenticeship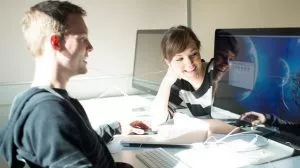 During your training you will acquire a mix of technology, commercial and project skills which will equip you for any of the following careers: Software Developer, Software Engineer, Software Tester, Application Specialist, Business Analyst, IT project Manager, or IT Consultant, Network Engineer, Cyber Security Analyst, Database Specialist, Data Analyst, Digital Media Technology Practitioner, Systems Designer.
You can read a more detailed description of this Digital Technology Solutions Degree Apprenticeship Standard , on which all programmes will be based.
How do I apply for a Digital Technology Degree Apprenticeship?
Even though you will be studying part time at university, you do not apply direct to the university. Degree apprenticeship vacancies are advertised by the companies offering them, so you apply in the same way you would for any job vacancy.
Once you have gone through the application process and have been offered the job, you will automatically be given a place on the course at the relevant university.
Each company recruiting for IT degree apprentices works in partnership with a university. The university runs the academic side of the training and the company provides the on the job training. You will most likely work 4 days a week on the job and one day a week you will go to university, but each apprenticeship will be slightly different.
Which companies are offering IT degree apprenticeships?
The companies offering IT degree apprenticeship programmes changes all the time, but some of the bigger companies have ongoing requirements and will be recruiting for their apprenticeships all year round. Here is a list of some of the companies which recruit for Digital Technology Solutions Degree Apprentices.
Accenture, Bank of America Merrill Lynch, BBC, Bright Future, BMW, BT, Capgemini, CGI, Deloitte, EY, Ford, Fujitsu, GSK, HMRC, HP, IBM, John Lewis, JP Morgan, Lloyds, Microsoft, Network Rail, Santander, Tata Consulting Services, Virgin Media.
Which universities are running Digital Technology degree apprenticeships?
Anglia Ruskin University
Aston University
BPP
Buckinghamshire New University
Loughborough
Manchester Metropolitan
Northumbria University
Queen Mary University
Sheffield Hallam University
University of Chichester
University of East London
University of Essex
University of Exeter
University of Greenwich
University of Hertfordshire
University of Lincoln
University of Roehampton
University of Staffordshire
University of Sunderland
University of West London
University of Winchester
Where can I find vacancies?
To search for opportunities, visit our list of Degree Apprenticeships Vacancies.