There has been a steady rise recently in the number of company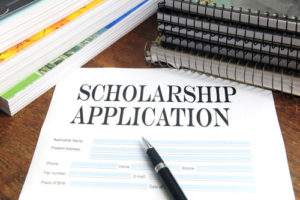 scholarships being offered to UK students, either here in the UK, or from America. Companies create scholarships for lots of reasons such as encouraging diversity in their workforce, to attract graduate recruits or sometimes to get their brand recognised among students who are their target customer.
Whatever their motivation in offering these company scholarships, they represent a great opportunity as they are usually open to all students, wherever you are studying, and quite often whatever subject you are studying. And what's more, it is often just a case of answering a question, either in the form of an essay, video or some other format.
You will find this type of scholarship on our database listed either under "Open to Any University" as the Institution or "Other" as the reason for the award.
Here are some examples, but this list is by no means exhaustive and new ones are being added all the time.
First Formations Scholarship
Applicants must be current students in a recognised UK institution, currently studying for a business related degree and able to demonstrate academic excellence and personal circumstances which make you a suitable candidate for additional financial support.
BeArt Presets Scholarship
Worth $1,000 this scholarship is open to Yr13s who have accepted a place at university, current undergraduates and postgraduates. Applicants have to answer the question "How The BeArt Presets Academic Scholarship will impact your life?"
Driver Education Initiative Scholarship
Open to students currently in sixth form, undergraduates or postgraduates. This scholarship is open to students from around the world. You are required to submit an essay on one of the subjects given around driver safety.
Display Wizard Graphic Design Scholarship
Applicants are required to submit two eye catching designs of promotional stands for your University and write a 250 word essay. Worth £500
Generation Google Scholarship
7,000 Euros for students who are studying Computer Science at any university in Europe at both undergraduate and postgraduate level. You must be able to demonstrate academic background, passion for increasing the involvement of women in computer science, and leadership skills. Applications are strongly encouraged from female students.
Flat Pyramid Scholarship
Anyone studying 2d or 3d Computer graphics, Animation, Designs, Arts Engineering Designs. Basically, aspiring 3d Artists, 3d Modelers, CG professionals, Animators, Designers, Graphics.
Jack's Flight Club Travel Abroad Grant
Open to any citizen and/or resident of the UK & Ireland, who is enrolled full time in an accredited University and will be studying abroad. Applicants have to submit a 500 word essay on where you're planning on going and how studying abroad will help you achieve your ambitions, both academically and personally.