If you are interested in applying for a degree apprenticeship, we help to answer some your questions about the application process, including how to apply for degree apprenticeships, where to apply, when to apply and where to find degree apprenticeship vacancies?
Do I apply for degree apprenticeships through UCAS?
Degree Apprenticeships combine full-time paid work with part-time university study to offer candidates the opportunity to earn a degree whilst working.  Although you will be going to university to study, you do not apply through UCAS and you are not able to choose the university you wish to study at. Instead, you make your application to the employer. They will have come to an arrangement with a particular university to provide the training for their apprentices, and once you are on the programme, you will be registered at that university by your employer.
As these types of apprenticeships are created by partnerships between employers and universities or colleges, it means that the costs are settled between the education institution and the employer— meaning you can not only earn money while you learn, but you also do not have to worry about student debt hanging over your head when you graduate.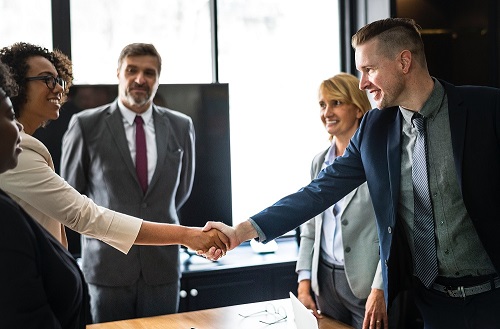 With a degree apprenticeship, you could be looking at earning a salary of £15,000-£20,000, gaining on the job experience in your chosen industry for three to five years alongside your studies and still come out with a degree. By now you're bound to be asking— how does it all work?
Why should I apply if I've applied for University?
By applying for Degree apprenticeships too, you could be keeping your options open. You might just like what you see and decide that you would prefer to go down the apprenticeship route and with many of the UK's top employers now running degree apprenticeships, you could be securing your career prospect before you even start your degree.
Is applying for a degree apprenticeship right for me?
Deciding whether applying for a degree apprenticeship is right for you ultimately comes down to you and your circumstances. For some, debt is a real concern, which is why taking on a degree apprenticeship and having those often back-breaking costs covered by your employer is so appealing. For others, it might simply be that attending university full-time in the traditional sense just isn't for them.
It isn't a decision that should be entered into lightly— there are some misconceptions that taking on a degree apprenticeship is the easier option, which couldn't be further from the truth. Such an apprenticeship requires you to work full time, as well as attend university and meet your assignment deadlines. With that in mind, it's crucial to maintain a certain level of focus, ambition and determination in order to do well and see the apprenticeship through right until the very end.
If you're still unsure, speak to your school's career adviser to get some well-rounded advice on the matter. You should also talk it through with your friends and family, as they will know you better than anyone and therefore will be able to help you reach a decision that is most suitable for you.
What is the application process like?
Unlike traditional university applications, there is no fixed cycle, nor any fixed deadlines for application submissions. Vacancies appear throughout the year, with the majority of vacancies appearing during autumn time. Some employers also begin their recruitment processes at the beginning of the year in January or February— so do keep your eyes and ears open for roles.
When you find a suitable role, don't make the mistake of leaving it until the last minute to submit your application. In some cases, an employer may close the vacancy as soon as they have received a sufficient number of suitable applications. You risk missing out— so don't procrastinate!
First and foremost, if you are still at school or college, you will need to pay very close attention to the start date of the apprenticeship. Will you have finished by the time the role starts? As well, it really goes without saying, but you should take the adequate time to research the job role and what it entails thoroughly, in order to decide whether it aligns with your long-term career aspirations.
Applications are usually made to the employer and typically involve submitting an application form and/or a CV and covering letter. With that in mind, read the job description carefully and make every effort to craft your application around what the employer is looking for— think of relevant examples of things you have done or accomplished that will help to support your application.
The recruitment process for a degree apprenticeship can take some time, particularly for bigger companies, and usually involves various stages such as submitting your application, taking online tests and perhaps a telephone interview, before heading to an assessment day or face to face interview. Smaller organisations may have a slightly more informal or personal approach to their recruitment process— however, it's important to prepare yourself for various stages of the process.
Is the application process really competitive?
Degree apprenticeships are on the increase, as more employers, colleges and universities, students and parents realise their advantages. In 2019 there were 13,500 new degree level apprentices, but compared to the number of university places, it is still small.
Therefore some people would say that the application process for a degree apprenticeship is much more competitive than applying to university. There are fewer places available overall and the selection process can be tougher – you are after all applying for a paid job and so will be expected to attend an interview, online at the very least and then in person. Many recruiters will hold assessment days, where all shortlisted applicants are invited to meet them. However, do remember these roles are on the increase and employers are keen to snap up students who are looking to get a degree at the same time as working and earning money.
How can I make my application stand out?
Applying for a degree apprenticeship is a highly competitive process, so it's imperative that you make every effort to sell yourself as best you can and make your application stand out among the noise. As mentioned before, detailing relevant examples of things you have done or accomplished will clearly demonstrate to the employer what you have to offer. As well, be sure to back up your statements with evidence— avoid trying to oversell yourself, as anything you write may be explored further at the interview stage, and the very last thing you want is to be caught out in a lie.
Don't forget to take the time to tailor your application— perhaps you're applying for a number of different roles with different employers to keep your options open. It's certainly not a bad thing, so long as you are not attaching a generic application to each one. Hiring managers have been through this process perhaps dozens of times before, and so they will be able to spot a set of copy and pasted applications from miles away. Instead, take your time and thoroughly follow the job description point by point. One really strong application is better than a dozen half-hearted ones.
It goes without saying, but always check your spelling and the readability of your application, especially if you are submitting a formal covering letter with your application. You could even ask friends or family to double check it for you— mistakes are easy to make, but in such a competitive process, you don't want a lack of attention to detail be the thing that stands in your way of success.
Will I be guaranteed a job?
There's no doubt about it, taking on a degree apprenticeship is a great alternative path to landing your dream career. Exactly what happens at the end of your apprenticeship does depend on your specific employer, and so although it does not necessarily guarantee you a job at the end, you will still benefit from being a highly employable graduate at the end of the process. Not only will you have amassed several years of highly relevant work experience in your industry, but you will have benefited from studying a course specifically tailored to industry needs, meaning you will have developed the essential skills and knowledge to become a true success in your long-term career.
What grades do I need?
The entry requirements for degree apprenticeships varies greatly depending on the employer, as well as the position and the subject. Generally speaking, they are designed for school leavers who have obtained their A-Levels, and so would be expected to start at an intermediate or advanced level. However, this is not always the case— it is worthwhile checking with the employer directly.
Where do I find the roles?
Although degree apprenticeships are a relatively new development they are, as mentioned, ever growing and are increasingly being created in many different industries, covering a wide range of roles and subjects. Due to their success, as the scope for degree apprenticeships expands, as does the range of universities and employers offering opportunities. But where can you find them?
To find apprenticeships that are local to you, as well as ones further afield, you can find a list of current vacancies across the UK on our Degree Apprenticeship Vacancies page.
It is also worth checking for vacancies directly on specific employer recruitment sites, too.