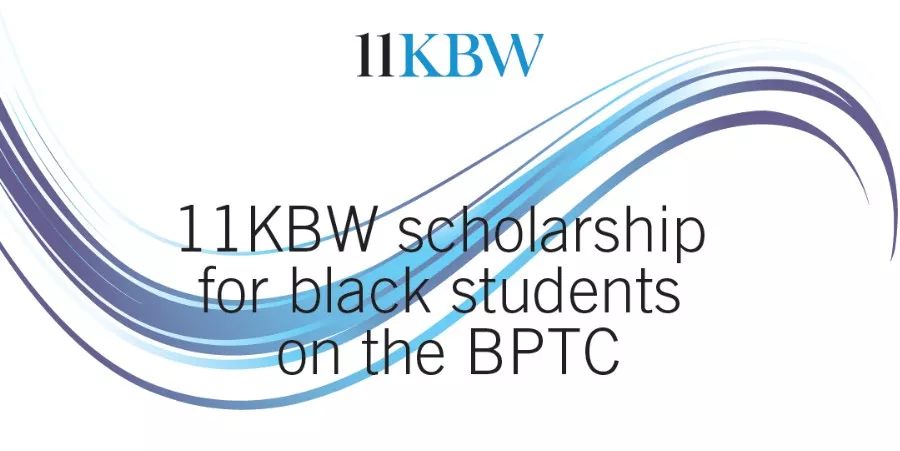 11KBW , a leading set of Barristers Chambers, recognises that a range of ethnic minority and other underrepresented groups experience prejudice and disadvantage at the Bar. But there is evidence that black applicants and barristers suffer specific disadvantage and underrepresentation, in particular in areas of practice where there has been entrenched underrepresentation.
11KBW is committed to taking real action to address this.
As a specific and practical response to the underrepresentation of pupils and barristers from Black/Caribbean/African/Black British ethnic groups at the Bar, 11KBW has established an annual scholarship of £30,000 for a black student on the BPTC for an initial 5 year period from 2021/2022.
What is on offer?
A scholarship award of £30,000 towards tuition fees and maintenance.
Mentoring from members of 11KBW during the BPTC and pupillage years.
A guaranteed assessed mini-pupillage at 11KBW; and
If the student's score on the assessed mini-pupillage is within a particular range, relative to other candidates, the offer of a guaranteed interview for pupillage at 11KBW.
How many scholarships are available?
There will be one scholarship for a black student on the BPTC for an initial 5 year period.
Who can apply?
Applicants must have:
one of the following categories of ethnicity: Black African; Black Caribbean; Black Other; Mixed – White and Black Caribbean; Mixed – White and Black African; or Other mixed background (to include Black African, Black Caribbean or Black Other);
obtained an undergraduate degree at a UK university with final degree classification;
been assessed as a 'home' student for fees purposes during their UK undergraduate degree; and
before the Scholarship is awarded, confirmation of a place on the BPTC at an approved UK provider.
Selection Criteria
Winners will be selected on the following basis:
demonstration of aptitude to succeed at the Bar;
evidence of achievement; and
an intention and ability to practice at the civil or commercial Bar.
11KBW particularly welcomes applications from candidates with an intention and ability to practice in specialist areas of the civil or commercial Bar in which there is an existing lack of black representation.
Timeline
Application closing date: 9th February 2021
Applicants shortlisted for interview by 19th February 2021
Winner notified and announced in March 2021.
For further information and to apply please visit: https://11kbwscholarship.com/