When it comes to higher education, age really is just a number. Whether you have just entered your twenties or are well into your thirties or forties, you have every right to pursue higher education if it is what you want to do. In recent years, there have been significant numbers of mature students attending university beyond the age of 21, even despite tuition fee increases.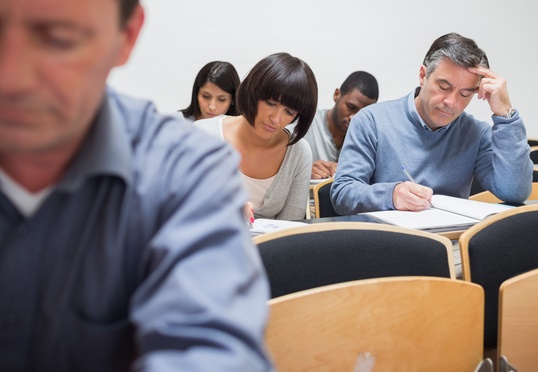 For some, the desire to return to higher education may be for a career change or progression, while for others, it could arise from a feeling of having missed out on certain opportunities in life. Whatever the reason may be, attending university as a mature student can be highly can be a highly rewarding path to take, though it is certainly not a decision that should be entered into lightly.
What are the challenges of returning to study?
Mature students often face a unique set of challenges, many of which should come into consideration long before filling in the all-important application to study. It is highly likely that your priorities as a mature student will be vastly different from the priorities you had when you were 18 years old or even in your early twenties. You may have employment to consider, financial responsibilities or even a family and other life commitments— all of which can be demanding in their own right, and that's before the added pressure of attending university is placed on top.
Additionally, it is fairly common for mature students to feel concerned about their abilities to carry out assessed work in comparison to their younger peers. A lot can change in terms of education in a decade or more, especially in terms of how individuals actually relate to the course content itself.
The good news, however, is that universities are well accustomed to catering for mature students and will be well aware of such challenges and more. Many universities offer refresher sessions which can be hugely beneficial in allowing for mature students to ease back into the process of education after some time away. As well, regardless of age, no student should ever hesitate in approaching their tutors, lecturers, department staff or other appropriate university staff should they require any help, as these types of personnel are always on hand to advise and support students.
How to adapt to a work-study-life balance?
Achieving a healthy work-study-life balance is perhaps one of the biggest challenges mature students face. With other life commitments and responsibilities hanging in the balance, long gone are the days where you can sleep in until midday, finish an assignment and then hit the pub with your friends. As mentioned before, you may be required to balance employment and even a family on top of your studies— so what can you do to get it right, without burning yourself out completely?
This is where effective time-management and forward-planning come into play. As a mature student, managing your time efficiently is the best way to be successful in what you do, whilst also allowing you to still have a life outside of all of your responsibilities and extra commitments.
One of the most important things you can do is develop goals for your studies and make a plan for what you can do on a daily basis attain these goals. They will become the ultimate motivator for when things get particularly tough. You could also try adopting the 80/20 rule if you struggle with distractions. Dedicate a few hours for concentrated study before giving your time to other things.
At the end of the day, it takes a great amount of self-discipline and determination to achieve a healthy work-study-life balance that will lead you to success as a mature student. It may sound like a daunting prospect and it can be unquestionably difficult— however, it is certainly not impossible.
What are the financial impacts?
Student Finances are often a major concern and even an obstacle for many mature students, and it's easy to see why. With other financial commitments to consider, such as household budgets and children, the financial impact of returning to study can be the make or break for many people.
That being said, there are a number of options to consider. For example, there are government incentives such as Childcare Grants and Parents' Learning Allowances which offer support for mature learners to enter into higher education. Some universities also offer scholarships specifically for mature learners. Additionally, if you are over 25 years old and want to study full time for your first undergraduate degree or equivalent qualification, you may be eligible for the same package of support from your student finance company as all other undergraduates. The amount of funding that you may be entitled to depends on your income and/or your partner's income.
However, if you have received government funding for higher education before, for example to complete an undergraduate degree, you may not be entitled to further funding. It is worth speaking to your student finance company and explaining your situation to see what your options would be.
It's also worth keeping in mind that returning to student status often has some financial perks. For example, full-time students of any age are exempt from paying council tax. Not only that, but you'll have access to discounts and promotions on food, drink and shopping, as well as transportation.
How does university life differ for mature students?
As mentioned before, it's highly likely that your priorities as a mature student will differ to that of your younger peers. As such, it really goes without saying that mature student life will differ slightly from the stereotypical university life often portrayed by bright-eyed and bushy tailed freshers.
As someone who has been out in the real world and experienced life, whether it be through professional work or through raising a family, you will have a range of life experiences that will carry you forward into this academic chapter in your life— something that your younger peers won't yet have a taste of. Because of this, you might even find that you have a clearer goals in mind for your studies, and motivation that is driven by past experiences or other responsibilities in your life.
However, this certainly doesn't mean that you can't have fun and connect with your fellow students. Many people find returning to study a daunting prospect because they worry about being the oldest person in the room— when in fact, doing so can present the opportunity to meet fascinating people of all age ranges and from all walks of life. You may not be up for hitting the SU until the early hours of the morning with them, but that doesn't mean you won't have anything in common.
With all of this in mind, when it comes down to it, mature student life doesn't have to be a world away from the traditional university experience. It can be all too easy to feel like you are embarking on a daunting chapter of your life alone— however, you might be surprised to learn that many universities have a dedicated mature students' society, usually for anyone over the age of 21, so it is hugely diverse and much more extensive than you might think. You can get involved and immerse yourself in the student experience in a way that is tailored to the stage you are at in life.