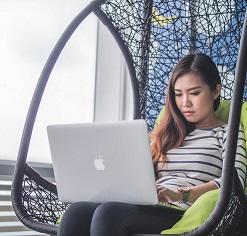 It is no secret that students are cash strapped and time poor, so finding a quick and easy way to make money online, so you don't even have to go out of your room, could be an ideal solution to both problems. Wouldn't it be nice to earn a bit of extra cash for minimum effort?
If the answer is yes, take a look at Swagbucks, a reward programme which pays out rewards and free gift cards or cash for the everyday things you do online.
What rewards do you get?
You will be rewarded Swagbucks Points (SB Points) for the things you do like watching videos, searching the web or answering surveys and referring your friends.
SB Points can then be cashed in for retail gift cards, PayPal credit or other rewards.
How do I earn rewards?
Firstly, sign up for free. and if you earn 720 SB Points in the first 30 days, you will get a nice £10 bonus. Earning is easy once you are signed up through any of these methods and more.
Surfing the Web
Use Swagbucks' very own search engine, which is powered by Yahoo, and you will earn points just for surfing the web in the usual way.
Watch Videos
Watch entertaining videos and get free gift cards! Earn SB points just for watching playlists that they will put together just for you!
Answer Surveys
Share your opinions and get free gift cards. Earn SB points when you answers fun surveys and polls
Have a Birthday –
OK, you don't have to be online to do this, but it's certainly easy! You will automatically be awarded 55 SB points every time it is your birthday – how easy is that?
Discover Offers
You will be sent exclusive deals and offers from well-known brands and you can earn SB points just by signing up for new services or checking out free samples
Play Games
You can earn SB points when you make in-game purchases or play Swagbucks' original free games.
Enter competitions
You can redeem your SB points for entry in to sweepstakes with the chances of winning some big prizes, but remember, if you don't win, you won't be able to get your SB points back so you might be missing out on gift cards you could have spent. Make sure if you do spend your SB points on these competitions that you won't mind if you lose them.
How much are the points worth?
As an example of what you can earn, most surveys will earn you an average of 70 SB points and might take up to 20 minutes. An Amazon £5 gift card will cost you 700 SB
The more dedicated you are, the more you can earn. Every task pays a different amount but if you can find tasks to do that you would have done anyway, or that you can do while watching TV, you will just accumulate points without even realising.
You will also find regular opportunities to boost your points.
Fancy giving it a go?