Even under normal circumstances, getting ready to go to university can be a stressful time, but preparing yourself to leave home for the first time in the middle of a pandemic is going to bring additional uncertainties. You are bound to be full of either apprehension or excitement for the next stage in your life and most people will experience a mixture of both, so trying to prepare yourself, as best you can for what lies ahead can make you feel more comfortable as you set off on your new adventure.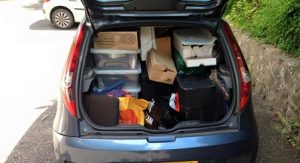 Nobody really knows what university is going to be like this year, as we are living in unprecedented times, but if you can take care of the basics, when you arrive, hopefully you will be ready for anything!
1. Get a student bank account
If you don't have a bank account already, you will need to get one so that your student loan can be paid in to it, so the sooner you get this in motion the better. If you do already have a bank account, you should visit your bank and advise them that you are going to university so they can change it in to a student account. Student accounts offer a number of advantages including free overdrafts, so it is definitely worth changing it. You might need to show proof that you have been accepted to university, but you can certainly get the wheels in motion beforehand.
2. Make sure you have some ID and some passport sized photographs
When you arrive you will need to prove who you so you must take your passport or some other form of ID. You might also need some passport sized photographs for some of your university ID, so it is a good idea to have some handy just in case.
3. Register with the university GP or medical practice
Even more important now than ever before. As much as we'd love to think that you are never going to get ill while you are at university, it is unlikely so you should definitely register with the university medical centre. The sooner you can do this the better as it sometimes take a while for your current GP to send your notes across, so try and get this in motion once you have accepted your place at the university. If you have any particular health needs or requirements make sure you know where to go and how to access what you will need while you are at university.
4. Sign up for Funds4uni
Funds4uni is a really simple way to boost your income while you are at university, without it costing you a penny. All you have to do is register and then ask your friends and family to support you. Every supporter who signs up, will generate free donations to your university funds from over 3,500 retailers when they do their shopping online.
5. Get your shopping sorted
There will undoubtedly be things you will need to buy to take with you when you go. We have drawn up a handy checklist of things you might need to buy. Not everyone will need everything on this list, particularly if you are not self-catering, but it will serve as a good starting point.
6. Check out what insurances you will need
A lot of student halls include contents insurance, so if you are going in to halls you might not need your own policy. Check on the university website what is covered by their contents insurance and decide whether you need your own policy too. For example, it might not cover your more expensive gadgets or laptops. You might also want to consider getting some tuition fee insurance. Endsleigh's offering is part of their student contents insurance policy and adding tuition fee cover will cost from £100/year upwards depending on how much you want to cover, but it means that if you ever find yourself unable to continue at university due to ill health, they will cover the cost of your tuition fees.
7. Do a budget. Do a budget. Do a budget
You might skip over this point, thinking you don't need to do this, but we can't recommend it highly enough. 78% of students worry about money while they are at university and this in turn can cause problems with your social life, relationships and mental health. Knowing how much money you will have coming in and how much you can afford to spend before you set off, will set you out on a good pathway. You should also check out what scholarships, grants and bursaries you could be eligible to apply for and keep an eye on them while you are at university as an additional £1,000 or more could come in very handy.
8. Find out all about Freshers' Week
Freshers week is not going to look the same this year, but the universities are doing all they can to try and make it a good experience. Check out what your university has planned and a little pre-planning before you arrive will help you to maximise the benefit and ensure you get registered with the activities you are interested in.
9. Learn some simple recipes
If you are already a budding Jamie Oliver or Nigella Lawson then you will be fine, but most 18 years olds don't spend that much time cooking. Take advantage of the summer holidays to learn a few basic meals that you can cook easily and don't cost a fortune will definitely prove worthwhile. There are also some good, simple student cookbooks that know students have little time and no money, that give you lots of healthy, easy to cook meal ideas.
10. Connect on Social Media
Not everyone's cup of tea, but if you like social media, you will find a lot of Freshers' groups spring up as soon as people know where they are going and which halls they will be in. Even a few simple exchanges before you arrive can make the whole thing seem less daunting. It can also be quite reassuring to share how you are feeling about it, knowing that you are not alone.